Recently, the news that Archie will propose to Veronica has been sweeping the nation. Much like how Captain America died or Batman died. Now it is Archie Comics' turn to temporarily revive the fortunes of a flagging intellectual property through a shamless stunt.
Of course, this particular move, like so many others, has been met with criticism. Mostly because Archie is marrying Veronica. Most comics fans don't like Veronica, believing her to be a stuck-up mean bitch. And this is true. Veronica is a stuck-up mean bitch. But here are some truths about Veronica most people don't want to realize:
1.) She is rich. This counts for a lot.
2.) She is unpredictable and fun.
3.) She doesn't care much what other people think of her.
4.) She is rich, yo.
5.) Most importantly, she is not Betty Cooper.
Some people do not realize that this last is a major plus. Betty, after all, is the "nice" one. She makes Archie cookies and helps him with his homework and does charity-type things and doesn't gripe about being kind of poor. Plus, let's face it: she's smoking hot. Why wouldn't Archie want to marry Betty?
The answer is simple.
Betty Cooper is motherfucking psycho bugfuck crazy.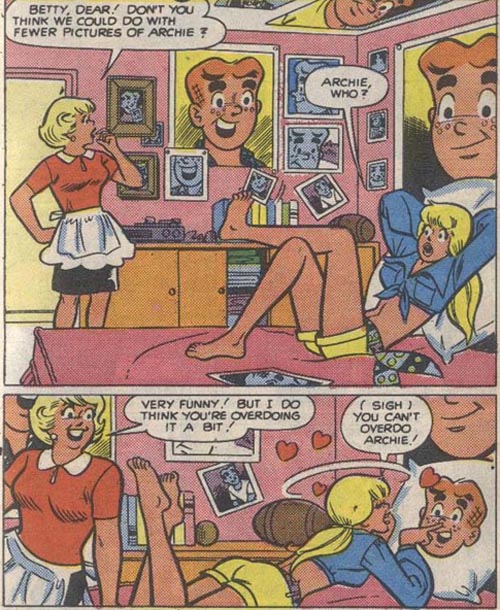 Look at this shit. Understand that Archie is a popular kid, sure, but he is not exactly the star of his school. (That's Reggie. Just because Reggie is an asshole doesn't mean he's not super-popular at Riverdale.) Archie is the decent guy everybody likes, who gets okay-to-good grades, plays on a couple of sports teams in a non-star fashion, and dogs lots of chicks. He is pretty fucking unremarkable as teenagers go, and were it not for his line of comics he would be the most boring human on the planet.
Betty Cooper is psycho for Archie Andrews, who tops out at "the most averagest person around." She has giant blow-up pictures of him. That you know she took herself, with her stalker camera. Look at some of those photos, how awkwardly cropped they are. That's because they are photos of Archie not knowing he is being photographed.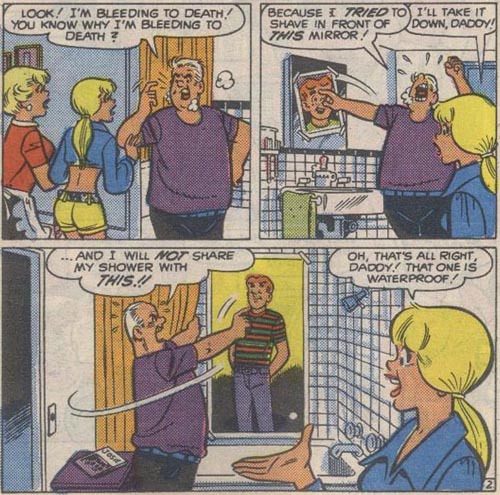 You know goddamn well the only reason she has pictures of Archie in the shower is jilling-off fodder. That's not sexy. That's fucking disturbing. Porn is great. Porn you make yourself – not in the "videotaping yourself doin it" sense but the "take time to produce life-size beat-off photos" sense – is creepy.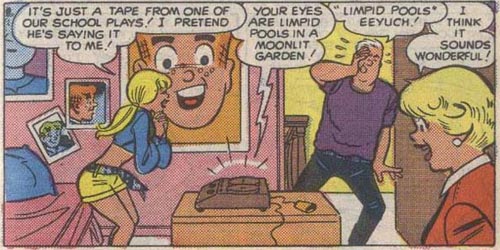 She kept an audiotape of him speaking! What. The. Fuck.
You just know that she looped it and edited it so she could have imaginary conversations with Archie. "Archie, do you think I am the prettiest girl at school?" "Heck… yes… Betty. I would… LIKETO… take… YOU… out for… a soda?" In Bettyworld, she is the rich one, and Archie is secretly a prince from the kingdom of Mevonia, come to take her away on his unicorn steed to a idyllic life of sybaritic pleasure.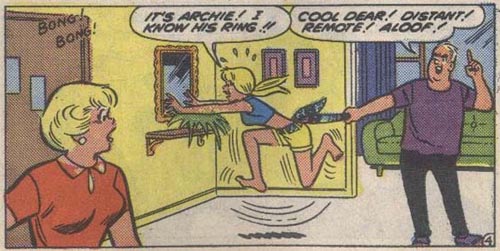 She is so crazy that when she thinks Archie is near, her sleeves disappear as her psionic powers spontaneously manifest themselves! (Okay, that's a bit of a dig on the art, but come on, Dan DeCarlo made so few mistakes that when you find a biggie like this one you have to comment. Archie artists today couldn't hold DeCarlo's jock if they had a crane.)
Note also how her father holds her back. It is much akin to how one holds a Rottweiler back before you let it rush into a dogfighting ring. "Savage him, Betty! Savage him and leave him bleeding and praying for death!" He knows what happens if you let Betty loose without tranquilizing her first. There was that time in Ohio. That's why he's Mr. Cooper now, instead of Mr. Lifschitz, and why Betty is no longer Brenda.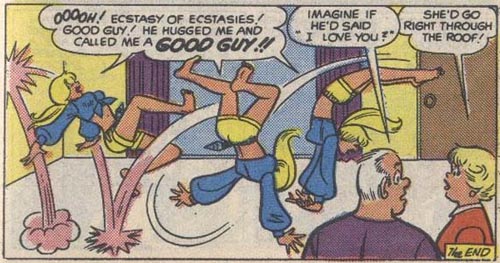 "Imagine if she told him he loved her." If he did, that would be when she would go get her rifle, climb the clocktower, and start shooting at Lodge Mansion's windows. "HE LOVES ME!" *BLAM* "HE LOVES ME!" *BLAM* "TAKE THAT, SMITHERS! I CAN KILL BECAUSE ARCHIE LOVES ME AND ALL IS RIGHT WITH THE UNIVERSE!" *BLAM* "ARCHIE WANTS YOU TO BLEED, MR. LODGE!" *BLAM* "ARCHIE'S LOVE MAKES ME IMMORTAL! I AM A GODDESS OF EVERLASTING PEACE AND LOVE!" *BLAM*
Top comments:
Are you guys seriously anylizing a COMIC BOOK? I mean, maybe a book i could see, if it was a realllly old classic, but Archie books? — Tigerthecat
Tigerthecat: Hi. You must be new here. — Lister Sage