NCallahan asked about my ideal design for a reality show. The problem with this sort of question is that most of the ground has already been staked out.
Consider reality television, as a genre, along two axes. The first axis is amount of specific talent required. On the one hand, you have a show like MythBusters, wherein Adam and Jamie bring a wealth of scientific and engineering skill, or Ice Road Truckers, where a very dangerous job is done by experienced drivers. On the other hand, you have a show like Survivor, where specific knowledge is entirely secondary in terms of the show's gameplay and presentation to less tangible people skills, or The Hills, where everybody is a retard and the only thing that matters is the clash of personality. Call it the difference between traditional IQ and emotional/social intelligence.
The second axis is degree of competition. Reality shows are either competitive or not, sure, but there are degrees of competitiveness. A show where the public votes on the winner is inherently less competitive than one where the winner is decided by a single person, like Donald Trump in The Apprentice; there's simply more chance that the public will judge incorrectly or in a biased manner. A panel of judges, in turn, produces a show more competitive than one judged by a single arbiter. And of course, the most competitive show is one where the contestants are eliminated only by other contestants. And of course there are shows where competition is either entirely moot, or where the "competition" is strictly A) for funsies or B) something about self-improvement.
So, visually, you get this: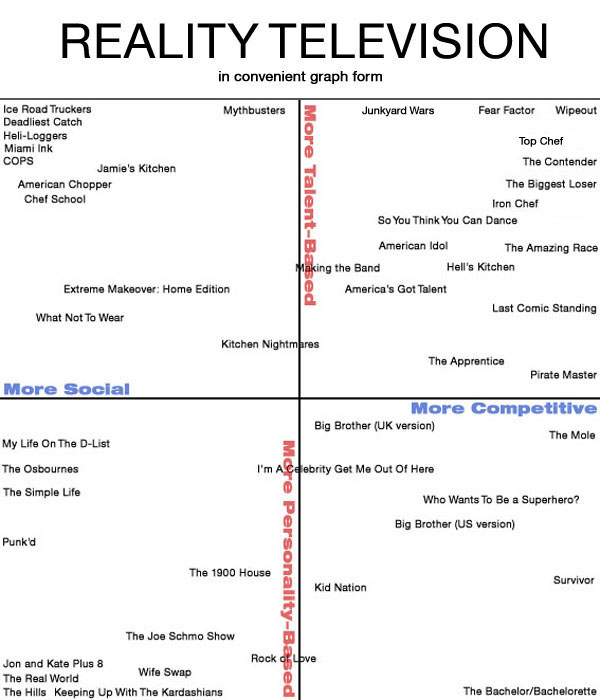 Increasingly one sees that reality TV trends towards the corners. The social/noncompetitive corner is dominated by MTV-style docusoaps like The Hills and other such totally worthless and horrible shows. The talent/noncompetitive corner is the realm of docudramas like Deadliest Catch. Social/competitive is exemplified by The Bachelor, where the goal is entirely competitive and the means to get it entirely social. (Survivor, while primarily a social competition, has nonsocial elements in its competitive axis.) Finally, talent/competitive is exemplified by Wipeout, which while not exactly high-class is definitely A) entirely about physical talent and B) competitive in the purest sense, as victory is determined solely by one's time on the fancy obstacle course.
What this means is that any new successful reality show has to find its own microterritory within the corners. And clearly, the most room exists in the competitive/social quadrant. Isn't science helpful?