Now, four years later, the fact that Jason Todd sucks has once again become a fact of nigh-universal agreement. His apparent death in Batman: Battle For The Cowl was widely cheered: whatever time in the sun the character might have had was long since past. Jason Todd sucks. Everybody knows this.
But they didn't have to know it. There was no good reason that Jason Todd's return had to be so sucky.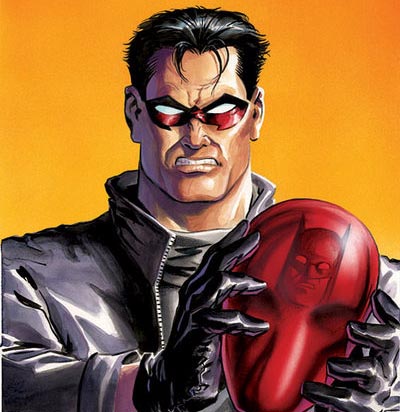 A recap, first, if we will. The idea of Jason Todd's return was stoked by Jeph Loeb's teasing of a Jason/Batman fight in Hush, his extremely popular (and mediocre) epic Batman story. Sure, in Hush the Jason Todd reveal turned out to actually be Clayface, but that didn't matter – bringing the idea forward like that primed the pump, much like Grant Morrison mentioning in Wizard how Batman undoubtedly had a contingency plan for every member of the Justice League primed the pump for Mark Waid writing "Tower of Babel" years later.
There's a good reason for it: "what if Jason Todd came back" was a really good idea. Forcing Batman to relive his greatest failure – and the implicit criticisms of his method that are inherent in Jason Todd's presence – is goddamned great story fodder, because under normal circumstances Batman is a very difficult character to believably threaten or damage. He's Batman: he's the best at everything always. That's why he's Batman, but this makes it hard to create an antagonist who can really get to him. The Joker and Two-Face and all the rest can be external threats to Batman, but they really can't get inside his head and make him doubt himself. Jason Todd, however, could do that.
It would work on multiple levels: Batman's mistake with Jason wasn't that he failed to save Jason from the Joker, but that Jason should never have been Robin in the first place, and neither Batman nor Jason would realize that.1 Jason could potentially blame Bruce not only for his death but for the death of his mother as well (completely wrongly, of course, but good melodrama is good melodrama). And, of course, there was the potential that Jason would not forget his general inclination towards justice, but instead take the Punisher route. (Which of course happened, sort of.)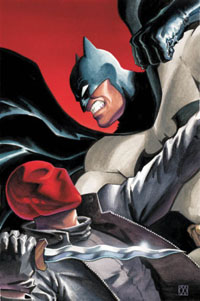 Why did it take so long? I think the two major obstacles to doing it were firstly the difficulty in resurrecting Jason (which was the lesser problem of the two, given that we are talking about superhero comics in general and a hero with a major villain whose superpower is essentially resurrection via Lazurus Pit in specific), and secondly the inertia of beliefs in the comics community. Comics – especially superhero comics – is a community that is very conservative when it comes to abandoning tried-and-true beliefs. For years it was gospel that Jason Todd was a sucky, unpopular character, and any resurrection would poison the Batman franchise.2 What wasn't considered was that Jason didn't necessarily have to be resurrected as Robin, and that was why the Jeph Loeb tease worked so well; it turned preconception on its head.
So what went wrong? It certainly wasn't the original story that brought Jason back. "Under the Hood" isn't one of the all-time classic Batman stories, but it's very solid: beautiful Doug Mahnke art for most of the story, a reasonable, sensible plot arc, an absolutely killer costume for the Red Hood (it's such a great update on the original Red Hood costume – it's streamlined and cool, but with a real underlying sense of sheer malevolence to it), and occasional clever turns of phrase by Judd Winick, who is one of the truly overly maligned comics writers of the last few years; Winick has his flaws to be sure, but I can think of a good dozen writers or more who have committed any number of greater sins.3 There are mistakes: Jason is revealed before the big dramatic reveal to Batman, for example (in a move that is so counterintuitive to basic story considerations, I can't help but wonder if an editorial need to sell more issues wasn't involved), and the use of the Black Mask is kind of corny, and Winick really, really sucks at writing the Joker. But as plot-driven comics go, "Under the Hood" is entirely okay.
And, although Superboy Prime punching time was indeed lame and one of the silliest things to come out of comics in years, an instant in-joke for comics fans everywhere, DC handled it properly with respect to Jason: Prime's time punches resurrected Jason in one page and the rest of his "new origin" ignored it, and indeed Jason eventually got dipped in the Lazarus Pits to get the resurrection job fully done, in keeping with the Batman mythos. So it wasn't that either.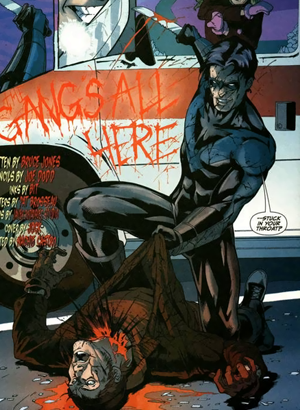 What happened? A lot. First off, "Under the Hood" wasn't a self-contained story: somebody at DC decided that it would be best to keep Jason around. This was understandable, but if you're going to do something as major as bring Jason Todd back (and bringing him back was the Batman equivalent of dropping a nuclear bomb), you can't give up on the Batman/Jason story and do something else without making it look like DC has a bad case of attention deficit disorder. This was of course exactly what happened. First off, Jason showed up in Nightwing, in one of the truly freakish stories of the last decade, where he impersonated Nightwing for a time, and then fought Nightwing, and then for a brief period of time he was turned into a sort of tentacle monster thingie. This was exactly as good as you think it was, assuming you thought "wow, that sounds bad."
After that, Winick got his hands on Jason again, but this time around in the pages of Green Arrow, where he used Jason as a foil for Oliver Queen. The story was inoffensive; bland, maybe, but nothing outright bad. This would mark the final high point in Jason Todd's DC comics return, and that a nothingish story like this one would be considered a "high point" should explain how bad much of Jason's return would overall be.
Because up next was Countdown to Final Crisis, the legendarily shitty DC weekly series. In this series, Jason was teamed up with Donna Troy and Kyle Rayner to hunt for Ray Palmer for some reason. I don't quite remember why, to be honest. Some universe-saving thing. Countdown was so bad I've struck most of it out of memory. What I do remember is Jason Todd donning the "Red Robin" costume from Kingdom Come at some point, which is a mistake in and of itself because the Red Robin costume is fucking ugly; Alex Ross has certainly had his share of costume design successes, but also a few stinkers, and Red Robin is among his worst. It's like a grade-school parody of what "grown up Robin" should look like.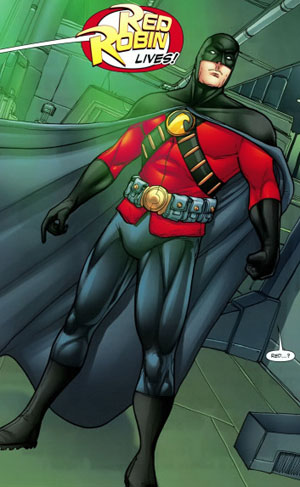 The other problem with Countdown and its effect on Jason was its scope. Countdown was, shitty execution aside, a cosmic-level story about the birth and death of universes. Jason Todd is a really fit, smart guy with some guns and a fancy knife and Batarangs.4 One might begin to see that Jason was on a stage he was never meant to occupy. On the scale of Countdown, Jason Todd inevitably ends up looking like a pussy compared to Kyle "I have Ion power" Rayner and Donna "I'm like a second-rate Wonder Woman" Troy, and when you look bad compared to Donna Troy – one of the great unlikable, pointless trainwrecks in DC comics history – you're in the wrong damn comic book.
Hell, Batman only barely gets away with being in massive universe-bending crossovers, and he does it mostly on the basis of A) being a master planner and B) being Batman Who Is The Best At Everything. (And even then, smart writers minimize his use. Batman does not play a large role in Crisis on Infinite Earths, or Invasion!, or Final Night, or indeed most of the successful massive DC crossovers of the past twenty years.) Jason Todd isn't a master planner, and even if he were he never got the chance to plan masterfully within the story. What's more, he can't be the Best At Everything, because he's Batman's ex-sidekick and therefore by definition isn't as good at everything as Batman is. The entire storyline of Countdown would inevitably diminish Jason; there was no way it could do anything else.
After that, the Red Robin costume got dragged out again for another Jason story, this time in the pages of Robin. The story was not especially bad, but had that same inessential quality that all Robin comic books have; when you're reading Robin, it might as well come with a big stamp on it saying "you're reading about Batman's sidekick, what do you expect? We save the cool shit for Batman." Anyway, Jason Todd got shown up to look like a horse's ass in the story, but given that he'd spent a whole year looking like a chump in Countdown this was nothing new. Jason Todd was now the official whipping boy of the Batman family; it had taken about a year and a half to completely trash all of the dangerous quality that was the essence of his appeal.
Which brings us to Battle for the Cowl, wherein Jason decided to become the new Batman, but the Killer Evil Batman Who Kills People. (Wearing a Batman costume that was, I am sure, purposefully lame and ugly.) In this wretched story that only served to draw out the obvious and inevitable conclusion of Dick Grayson taking over as Batman – and everybody, absolutely everybody knew Dick would be Batman – Jason was portrayed as having gone more or less crazy. He was outwitted repeatedly by both Tim and Dick, made to look like a chump numerous times; his only advantage was that he was willing to kill people, and in seventy-five years of Batman comics, the only thing that is certain is that a willingness to kill is never an advantage.5 Jason essentially took over the role played by the Reaper in earlier Batman comics. Do you remember the Reaper? He was a chump who was obviously there only to lose to Batman.
That's what Jason Todd is now; the chump. His importance was always defined by the fact that he was a credible threat to what Batman stood for and believed in, as opposed to being a credible threat to Batman's physical health; now he's been neutered about as definitively as one can neuter a character.
Jason "died" a totally unconvincing death at the end of Battle for the Cowl, his already tarnished image taking another hit. It's a shame, because in a (temporarily) Bruce Wayne-less world, Jason becomes even more relevant to Dick being Batman; he's the Other Brother, the one gone bad, the one who learned all of Batman's lessons but never understood their meaning. There could have been a truly epic story of a duel between Dick and Jason. It's not impossible that this could still be the case, but it would require fans overlooking all of the new baggage DC has given Jason Todd in the past two years. And that's a lot to ask; it's hard to buy Jason as a serious antagonist now.6 In professional wrestling terms, Jason Todd's been jobbed out.
And what's worse, unlike in professional wrestling, you can't just throw Jason into a different feud to build him up as a threat again; Jason Todd is defined by what happened to him as a part of the Batman family, and throwing him against, say, Booster Gold won't do anything except seem random. For better or worse, Jason Todd's resurrection has been squandered about as greatly as one can squander a great story idea; he's the poster boy for How Not To Do It. And that's a shame.