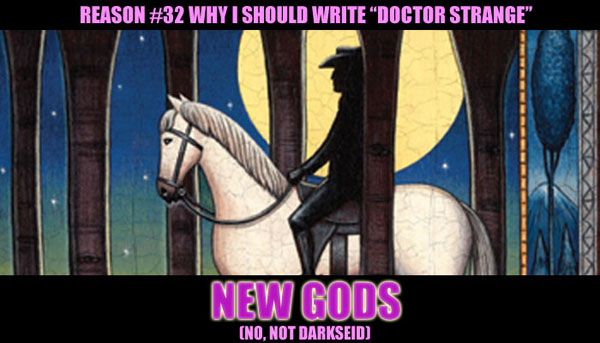 Where do gods come from in the Marvel Universe, anyway?
I mean, at this point it's pretty clear that they exist independent of human belief, so the ever-popular Terry Pratchett theory of godly creation (which was adopted by Neil Gaiman for the DCU in Sandman) is right out. They're just sort of there. Either they were created by some even more vast power than they themselves might be, or perhaps they grew out of nothingness: the primary gods in each pantheon were formless energy which somehow gained sentience in the early days of the universe. Each theory has its proponents, of course (with more than a little personal interest backing said theories more often than not).
What we can adduce, though, through simply observation, is that regardless of whether or not the creation of gods is directed or spontaneous, it is most certainly difficult, and likely requires a set of circumstances that mostly do not exist nowadays: the heady days when every cosmic fart would create a brand new pantheon looking for a bunch of believers to collectively call Home are long since over. The gods themselves don't know how they came to be: if you asked Odin or Zeus or Izanagi or Gitche Manitou how they came to be, not a one of them would remember. And even if they did, and they don't, they certainly wouldn't tell you.
Which is why it comes as a shock to Stephen Idle, a bike courier in Los Angeles, when he suddenly figures out that he's the God of Couriers. He's not sure how it happened; all of a sudden he's faster on his bike than the wind and can hear the nonspecific prayers of his fellow couriers for speed and skill and truck avoidance. Plus, there is that one time that he flips a semi when it's about to hit his best friend, with naught more than a wave of his hand. And why are all the girls at the courier agency looking at him like he's James Bond all of a sudden? He gets himself checked for a mutant gene, but there's nothing there. His powers aren't natural; hell, when he tries to get them identified they disappear entirely, like they don't want to be seen.
Hank Farnell, in Oklahoma, realizes at about the same time that he is the God of Cowboys. His lasso can snare the horizon itself. The cattle follow him like loyal dogs, his horse seems to be glowing for some reason, and Hank's pretty sure he shouldn't be able to ride across falling snowflakes. Betsy Klein in London discovers that she is the Goddess of Negotiation when the company she's dealing with, in a tense labour standoff, agrees to not only accede to the union's demands but offers a potential worker buyout – the CEO says he's so very sorry, and would they like his past decade's salary as a sign of good faith? Alex Ngwambe in Zanzibar comes to understand his place as the God of Bargains; Thoi Pham in Hong Kong learns he is the God of Mad Beats; Shannon Mckittrell in Auckland learns she is the Goddess of Bungee.
And if the societal confusion caused by this brand new pantheon was not bad enough, here is the thing: the other gods, the ones already extant? They're pissed. Most of them, remember, aren't really very nice people: good chaps like Hercules and Thor are not very representative of their pantheons, really, and the Asgardian and Greek pantheons are actually a couple of the nicer ones. Tensions start ratcheting up; half of the pantheons just want to kill these newcomers and the other half wants to recruit them. And what's worse is that most of the new gods don't want to be gods at all. Really, godhood is kind of a pain in the ass. ("Worshippers? You can have 'em. And what the fuck is up with auguries? Why am I expected to respond to a pile of steaming entrails?")
This is the sort of thing only the Sorcerer Supreme can do: serve as the go-between and negotiator for a dozen pantheons while simultaneously putting his foot down to protect the former mortals (even the leaders of most pantheons, powerful as they might be, don't want to risk that the current Sorcerer Supreme might be able to take them on) and investigating to figure out why suddenly there's so much spare godliness to go around (and who or what might have caused it). The fact that there's any new gods at all isn't wondrous: it's potentially very worrisome. That's the sort of thing that prompts Dr. Strange to make house calls.