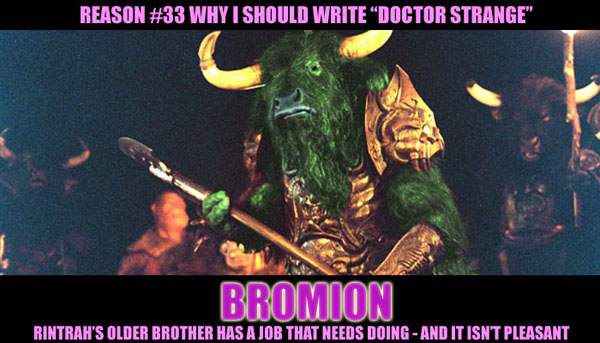 Rintrah's death was a bad one – both in the actual nature of the death (it looked rather unpleasant) and in the writing of it. Those unfamiliar with Strange's most recent disciple (who was a friendly big green minotaur from another dimension, which is par for the course when it comes to the life of Dr. Strange) should understand that he died after rescuing Strange from an evil demon named Tartessus – Rintrah decided to smash the amulet that was Tartessus' sole gateway to this dimension, and died in the resulting explosion.
Unfortunately, Tartessus was a "feeding" demon, one that consumed souls for sustenance and power. What Dr. Strange didn't know (since this happened at the apex of his mystic powerlessness) was that in smashing the amulet, Rintrah's soul was severed from his body and captured as he died. Tartessus restrained itself from feeding, for Rintrah's soul was more than just a snack: it was an anchor to his home plane of R'vaal. Tartessus started quietly raiding Rintrah's home plane for food. Unfortunately for the denizens of R'vaal, though, Tartessus had a bit of an advantage now: Rintrah had died on earth, so the anchor through to R'vaal that his death had created was also tethered to our dimension. He couldn't be destroyed without traveling here first.
The ruling councils of R'vaal decided to take action to confront the threat of Tartessus, keeping their populace under guard by the various mages' councils, while a few of their boldest adventurers would set forth and find the link to Tartessus' plane and destroy it, thus keeping Tartessus safe. They prepared a spell matrix of transport and began outfitting the selected heroes for the dangerous journey ahead.
However, it was at this point that Bromion stole the matrix.
Bromion, one of the foremost soldier-captains of R'vaal, five times victor of the Great Warrior's Squall in the central circle of central circles; Bromion, who had argued long and fruitlessly that for R'vaal to simply allow Tartessus to freely pillage other dimensions was a moral outrage; Bromion, who had demanded that R'vaal go to war against Tartessus for the crimes the demon had committed against it. Bromion, who could not abide it in his heart to allow Tartessus to live after the foul thing had slain his younger brother and entrapped his brother's soul as a tool, and whose need for vengeance was obvious to all in the councils.
Bromion knew that Tartessus would prove a deadly foe, but he prepared himself, taking forth (or, more accurately, also stealing) the Adze of Old R'vaal, which as all knew could cleave the very forces of magic itself in two. He similarly equipped himself with (again, stole) the Trumpet of Gazplach, which when sounded could send forth radiant and deadly light against one's foes. And he took one of his little brother's childhood projects: the small crystal Rintrah had made as a young hornling, which would glow brighter in his presence. Clearly, Bromion reckoned, this would guide him to the soul trap the demon wore.
But before he did any of that, he consulted with a sympathetic oracle – his desire for revenge did not outweigh his sense of duty, and he wished to make sure that his quest at least had a chance of success. The oracle told him that success was possible, but he would require help.
"Seek the counsel of your kin's former master. He will guide you to your ultimate destiny, and to the ultimate downfall of your foe. Only with his wisdom shall you prevail, Bromion son of Enitharmon daughter of Los; only by his unsteady hand can you triumph."