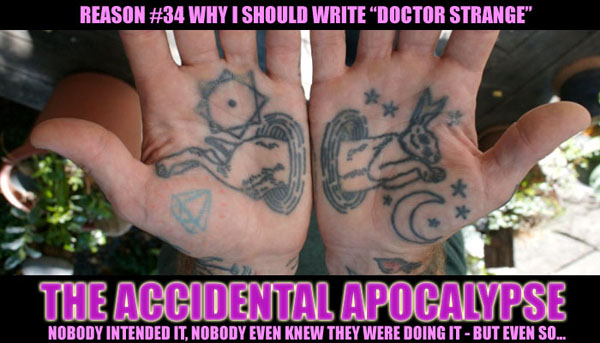 It's common knowledge that magic, generally speaking, needs intent to function. Magical spells are complex tools, and the driving will of the caster is akin to the torque applied when you use a screwdriver. Just as merely putting the screwdriver against the screw is not enough to twist it, so is merely saying "enogh morlincck ptg'aah" enough to appeal to the Seven-Handed Sloghee of Ptu for a magical zappy bolt. Without the will, the word is meaningless. Everybody knows this, and it is always the case.
Except, of course, when it isn't. Not every spell is like a screwdriver. A small few are more like a .45 automatic; the culmination of lifetimes' worth of refinement of work, resulting in magical expression so innate that intent becomes meaningless. And just like the .45, if you gave them to a baby, the baby could blow his head off. Or yours, for that matter. That's why nobody ever uses them: the entire point of magic is that you have the power, not Joe Shitbag down the street. (Sorcerers tend to get in a huff when the peons get magical power without a lifetime of study. It smacks of cheating.)
It begins when a teenaged girl burns up in a pyroclasm outside of Houston. She had thought she was a mutant, even told her parents of her intent to go to San Francisco and join the X-Men so she could use her powers of fire and flame to help people. Her parents weren't wild about it, but accepted her choice – until the aforementioned fiery death. But Hank McCoy knows a mutant when he sees one – and when he doesn't – and puts two and two together, and calls Reed Richards. And Reed Richards eliminates everything Hank didn't, and that's when he calls Stephen Strange.
A bit of investigation leads the Doc to a tattoo parlour, where he discovers in the sample book a series of glyphs no tattoo artist should have, much less ink. The glyphs are old magic, very powerful and very dangerous – spells meant only for combat with massively dangerous consequences. The girl had a glyph that combined seven separate fire-wielding magics into a single rune stencilled onto her back. (The tattoo artist explained that it meant "warrior" in Sanskrit. He was not correct about this.) She only lived another six months after getting the tattoo; it was amazing she managed six days given that she didn't know the limits of her power.
But she's dead now, and tragic as that might be, she can't hurt anybody at this point. But the other tattoos the artist unknowingly empowered other cool-seekers with can. So Strange and his coterie have to find those other young people and get them to remove their tattoos. Not easy, but not impossible. Right?
Except that they're not just looking for one or two people who might explode, but specifically a group of five people with a multi-part spell tattooed on their backs. If those five people ever ended up within, say, twenty feet of one another, the spell activates. That the designers of these magic glyphs – who were willing to give people power to turn themselves into walking bombs – actually took the time to put in a failsafe that meant requiring five individuals to work in concert, you can get an idea of how dangerous the resulting spell is. (Hint: think in terms of hemispheres being removed.)
Except that the tattoos were designed to not only give great power, but also avoid detection. (These were designed for an ancient civilization's warrior elite, after all.) So the usual scrying spells won't work, and that means Strange and his band have to do things the old-fashioned way: with footwork and deduction. Although none of them are stupid, this is not exactly their forte.
And except that somebody gave the tattoo artist that book of glyphs – and they have a vested interest in making sure that the fivepart charm fires off.