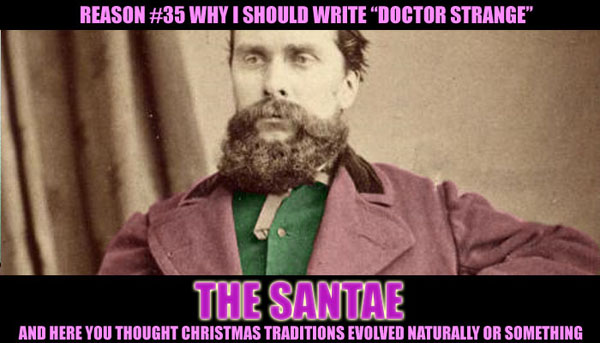 It begins when a man in a Santa outfit is found dead in a New York alleyway, his face ripped apart beyond recognition and every drop of blood in his body exsanguinated. But it doesn't end there. The very next day, a second Santa is found hanging from the London Bridge, his eyes gouged out – later during the autopsy, it is revealed that several of his organs have gone missing, even though there is no scar indicating a place where they might have been removed. A third Santa shows up in the middle of a Vancouver plaza on day three, with skin the consistency of melted wax; on day four, a headless, limbless torso in a Santa coat shows up outside the Sydney Opera House.
But these are not just any Santas. These, every one, are members of the Santae.
The Santae are a very, very old brotherhood, not just of humans but indeed a plethora of supernatural creatures as well. Wizards, sorcerers, spirits, ghosts, monsters, angels, demons, lawyers, you name it – the Santae don't care what you are so long as you're willing to contribute to their crusade. Which, in a word, is Christmas.
You see, a long time ago, a number of magicians and influential citizens of ancient Rome came together to discuss a growing threat – an enemy from elsewhere, which fed on human fear, sorrow and misery. This emotional vampirism empowered these entities ever more greatly, but the Romans understood that you couldn't simply stop people from being afraid or sad; it didn't work. Human nature is a bit too pessimistic to allow it on a mass scale. The entities were growing ever more powerful and standard magic grew less and less effective; their tendrils reached into this world to create moments of fear and pain that were occultly significant and gave them ever more power. They wanted to come here and turn this world into a new hell of their own design.
Then one of the group that would become the Santae, a penitent demon by the name of Krngl, had an idea. What if people could be convinced to spread joy, cheer and love? Not all the time – just enough that the Santae could use these outpourings of positive emotion as the equivalent of spiritual and cosmological booster shots for the entire planet, working behind the scenes to create the circumstances where occultly significant shows of hope and love and other fine emotions could be tuned to attack the entities. The group didn't have any better ideas (they were frankly pretty desperate by this point) and were cheerfully surprised when it turned out that this plan actually worked at that year's Saturnalia.
From that moment the Santae worked tirelessly to serve their planet, using winter festivals and holidays as their cover. The Santae used whatever was convenient: the Festival of Sol Invictus, Diwali, the Chinese New Year (which they made sure spread to most of the eastern half of Asia), Yule, Eid, Chanukah (recently, Jewish members of the Santae have taken to calling themselves "Chanukah Harries," mostly because they like a good joke as much as anybody else), and of course Christmas. It was the Santae who made sure that Oliver Cromwell died of "malaria," ending his Puritan Parliament, and it was a member of the Santae working in the Coca-Cola corporation who suggested a new Christmastime marketing campaign using Santa Claus, popularizing his image throughout the world. Every year, they turn hundreds of shows of virtue into magical weapons in the Earth's defense; every year, they protect the planet anew.
And now, somebody is killing them off. That's when the Santae go to the one man they know can help them: the Sorcerer Supreme.