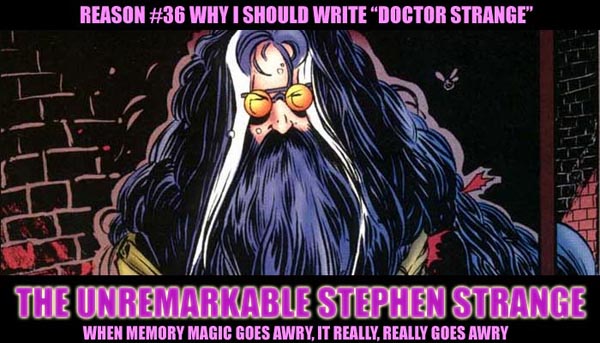 Hey, you read World War Hulk, right? Wasn't it cool when the Hulk called out Iron Man and Mr. Fantastic and Dr. Strange?
But here's the thing. Tony Stark is an international celebrity and Important Person in the eyes of the public. Mr. Fantastic is similarly one of the most famous people in the world and also Very Important. Neither of them can go anywhere as themselves without being mobbed by onlookers who want an autograph or a lay or occasionally to kill them. In the Marvel Universe, Thor and Captain Marvel are both the centrepieces of cultish sects that worship them. And then there's Dr. Strange, who has awesome magical power that at times has actually been divinely inspired for reals.
But Dr. Strange doesn't have his own cult. He doesn't make the cover of Time or People or even The National Enquirer. His name's not unknown – heck, he was a famous surgeon once, now he's mostly retired, does consulting work on surgical techniques and their integration with Eastern medicine – but he's not famous. He walks around downtown New York all the time. Unbothered. He actually runs errands sometimes. (Mostly Wong does it, but Stephen likes to get out for a walk every now and then.)
How does he do that, when he participates in Big Superhero Shit every so often? How is it that, after being called out by the Hulk on worldwide television, nobody afterwards said or thought "huh, maybe this Dr. Strange guy is somebody I should pay attention to?" How does he keep going back to obscurity?
The answer's pretty simple: it's because the Doc wants it that way. Magic's good for a lot of things, after all, and one of them is hiding. Not even "hiding in plain sight" hiding: no stage magic for Stephen Strange (who, if we're being honest, can never remember which is the turn and which is the pledge and which is the prestige, and still doesn't quite understand how the linking rings work). This was one of the first bargains Strange made during his magical career (he figured out how badly he needed it in the first two weeks after the followers started camping outside his door). Ikonn, the master of illusion and disguise, was more than willing to give it to him for a favour.
Strange paid that favour (he doesn't talk about it nowadays) and has had the power ever since. It just makes him forgettable. You'd just gloss over him, or mentions of him. When the Hulk was screaming on national television, people were so goggled by him screaming for the heads of Iron Man and Mr. Fantastic that they just didn't realize he also said "and Dr. Strange."
It's not universal. People who are determined to know of him can get around it easily enough, but Strange doesn't worry about them. (At least two-thirds of them are people he should meet anyway, he figures.) People who are used to a weirder life than average – like much of the super-community – tend to ignore the effect of it as well, and although that has drawbacks, for the most part it tends to be a bit of a bonus.
(It used to be that supervillains drinking at the Bar With No Name would convince one of the newbie supervillains to attack the Sanctum Sanctorum so they could have a bit of a laugh at the noob's expense. This happened a few times until the Doc figured out what was going on, and then he paid an entirely polite and well-mannered visit to the Bar. It doesn't happen any more.)
Until one day, when something Stephen is reading about recombinant DNA therapy piques his intellectual curiosity, and hasn't it been a while since Hank came over for tea? So he phones up Hank McCoy…
…and Hank has no idea who he is at first. It takes three minutes of conversation (Hank's gregarious, after all, and has been known to talk the ear off of people who dialed the wrong number) for Strange to remind Hank that they have been friends for years.
It starts getting worse from there. After a little while, the Avengers are looking at him funny when he comes over. Then they start acting like he's a civilian. Then Nick Fury – an obsessive secret keeper if ever there was one – doesn't know who he is any more. Night Nurse starts hedging on his name from time to time. Wong, thankfully, can fall back on "Master," although it's clear in his tone that he's not quite sure all the time why he's using the honorific.
Something's gone wrong. But what? And how does he fix it? Because when Stephen Strange looks in the mirror, now, he's starting to wonder if he recognizes the man staring back at him…