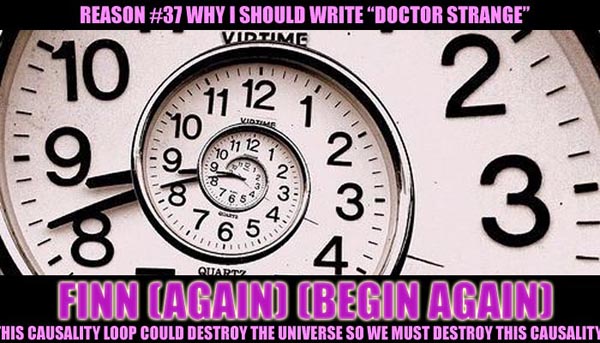 Time travel is part of the Sorcerer Supreme's day job. It sounds interesting; it mostly isn't. (I mean, from a certain point of view, time travel to the past is seeing stuff that already happened anyway and time travel to the future is like fast-forwarding through the good parts of the movie.) Two or three times a year, somebody invents time travel and they almost always travel to the past, which means Dr. Strange has to put on his time-travel pants, follow them back, do everything necessary to stop their stomping-on-butterflies (or whatever) from creating causality paradoxes, then remove the knowledge of time travel from their minds permanently. Really, it's just kind of a slog.
(Every so often, somebody gets the bright idea of going back in time and murdering Strange's parents before he was born, or Strange as a baby, or what have you. The same thing always happens: they commit their nefarious crime only to find out their targets are completely protected from their attack and don't even notice the assault/explosion/whatever. Then they turn around, where Doc stands there, arms crossed, looking rather irritated.)
But this time around it's different, because Colin Finn hasn't invented time travel. He's not even a theoretical physicist or mystic-in-training. He's a deliveryman for a courier company. Drives one of those vans, wears a dorky uniform. Has a girlfriend who dumped him six months ago because his life was going nowhere. Plays XBox with his buddies, likes books with swords and knights in them. He's an average dude.
Except that whenever he gets stressed or nervous he restarts the flow of time; rewinds the entire day instantly to when he got out of bed. He's been doing it for a long time now; the universe has been stuck on July 7th over and over again. Sometimes he gets a few weeks out, sometimes a month or two, sometimes only a few days, but inevitably reality goes zzzzzzzwoooooop and he's back in bed. He can't control it, can't stop it, and you'd better believe nobody notices it. He's tried killing himself a couple of times and that just auto-rewinds everything for him. He's really very depressed about the whole thing.
Well, except for Dr. Strange. Deja vu eventually becomes more than just deja vu, after all, when you've got the top job, and after a few thousand repetitions any Sorcerer Supreme worth his salt would start the day realizing he'd already started the day previously. After a few attempts to divine what's going on fail ("By the million eyes of Ashtur, I beseech thee, reveal the-" zzzzzzzwoooooop "Oh, damn it!") eventually Strange does what he probably should have done in the first place if he didn't keep waking up the night after he'd only gotten three hours of not-very-satisfactory sleep: he goes outside the universe.
And that's how he finds out that things are actually much worse than he thought. Because Finn isn't just rewinding time. He's using chronal energy, and that energy has to come from somewhere – and it's coming from the past and the future. The past is steadily being eaten away as Finn rewinds, again and again and again, and the future will never be. And every time, the great rewind stores more and more chronal energy – Finn is literally becoming a timebomb, but in the far more literal sense as well as the one we're all familiar with.
You can't kill him – even if you could manage it, what would happen to that release of time? (Answer: a lot of things, most of it bad.) So Stephen Strange has to somehow cure the strange affliction which presents itself to him. But how do you do that? This isn't a cute movie starring Bill Murray; it's not about Finn, the rewind doesn't care about him becoming a better person. This is something that was done to the guy. And Stephen has less and less time – literally – to figure out what.