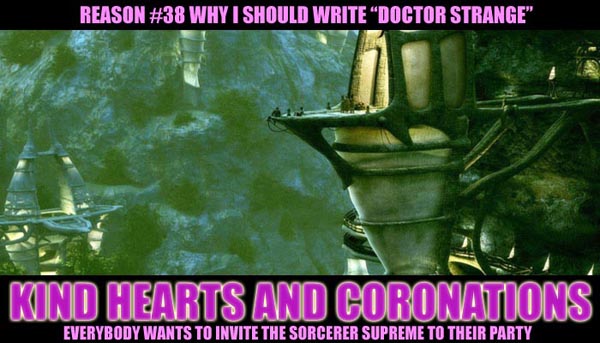 The Sorcerer Supreme is of course tasked with the defense of this reality from all others. But the thing about defense, as any diplomat can tell you, is that there's multiple ways to do it. A massive display of might is always a good option A, but there will always be those too cocky, too stupid, or too powerful to be dissuaded by your ability to turn armies into a pile of barely-sentient suet named Wuggles.
Option B is diplomacy, and as in our level of understanding, it is often very convenient and simple: being on polite terms with powerful sorcerers of other dimensions is, by and large, quite worthwhile. Firstly, it means that you can worry much, much less about them being hostile to Earth's reality, which in and of itself is pretty awesome. Secondly, it means that every so often you can deal with them for help, which comes in handy – well, not that often, really, because rulers of other dimensions tend to inflate the value of their services more than you would think and usually it's just a better deal to go with the really powerful grantors of power, but sometimes it can be downright useful, and better to have the option than not.
However, the opportunity cost of the diplomatic approach is often… irritating. For example, the Sorcerer Supreme is, like it or not, considered a "get" for organizers of social events in other dimensions. (Even when the other dimension's powerful person offering the invite outclasses Doc. It's like having a party and, say, the President of Hungary shows up – you look good even if your country makes Hungary look like a 98 pound weakling.) And you can't turn down all the invitations. You can turn down the smaller ones, of course, and they won't feel bad – even if you just send a polite note (or polite etched memory crystal, or polite scent-of-regret-on-jasmine-airbursts), simply that will make your prospective host feel better.
But some of them are too important to turn down. So when the Malagascor of Fijw requests your presence at the liferment ceremony of his firstling, you pretty much have to go – because, sure, Dr. Strange can probably take down the Malagascor of Fijw in a straight-up spell-sling, but why would you want to have a fight to the death when you can just go to a party instead?
But of course it's never that simple. Because
– the Undying King of Pallia and the High Ku Of Ku both find Stephen and demand he intercede on their respective behalves in the interdimensional war they're currently fighting, both convinced that he's promised to do so
– the party from Asgard insist that Dr. Strange, as an honorable champion of Earth, have them as his personal retinue, which is problematic considering they're mostly half-drunk berserkers (except for that one valkyrie who looks oddly familiar…)
– Regena, daughter of Gjo, wants to discuss arrangements for an upcoming wedding that Stephen is quite certain he didn't agree to (but she is quite certain he proposed, and in most gentlemanly extravagance!)
– he has to make sure that he and Umar are never in the same room – not because he fears her (although of course he does because he's not an idiot), but because he's put quite a bit of work into making sure that the Dark Dimension's intelligence network thinks he's still on Earth (and who the hell invited Umar to this thing anyway?)
– a Kronn chronolord demands retribution for the horrible insult Strange will cause him in twenty-five minutes' time, although the exact nature of that insult is a mystery to all concerned
– and of course, the Malagascor had ulterior motive for inviting Stephen in the first place…