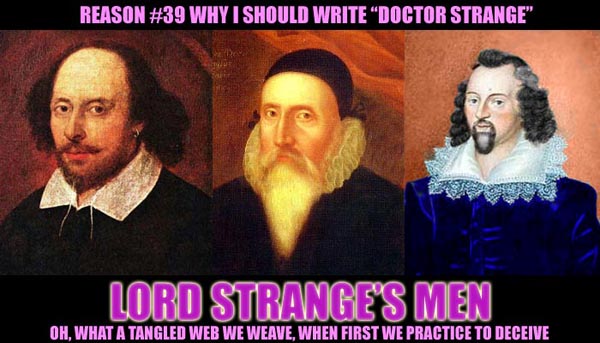 Previously, we discussed how time travel works, or doesn't work. Most time travel in comics follows the "create an alternate parallel universe in which you are then trapped" motif. There are reasons for this. If you are creating a time travel machine, you don't want it killing you, and traveling to the past is the sort of thing which makes it effortlessly simple for you to accidentally not exist all of a sudden: you accidentally convince an Irishman in 1843 that he should travel to London to find work rather than emigrate to America, and then all of a sudden you don't exist because your parents met at a Ted Kennedy rally which never happened because that Irishman emigrating led to there being Kennedys (or at least that specific branch of Kennedys) in the first place. Sure, there might be someone present who's kind of occupying your general space, but it's not you, because you've ceased to exist. This is why smart people time travel in a way that generally keeps them detached from the effects of causality.
That having been said: it's quite easy to muck around with the timeline you're currently on. It's mostly suicidal – if you're worried about the effects on you. But what if you're really, really powerful? And not really part of Earth's timeline generally, say? In that case, mucking around with Earth's timeline is kind of like playing with a four-dimensional ant farm. And if you've got goals beyond simply messing about, then you can be really, really dangerous.
It manifests itself when Dr. Strange notices that suddenly, people don't recognize the word "obscene" any more. Or "road." Or "unreal." Or "dwindle." He recognizes timeline alteration when he sees it; he's made certain that changes to the timeline lag in their affecting of him. (It gives him time to notice changes and then figure out what to do. It wasn't easy and he needed a lot of tutoring from the Vishanti to learn how to do it, but you don't get to be Sorcerer Supreme by slacking.) In this case, after a day or so, he knows what's wrong: every word invented by Shakespeare has disappeared from the English language. Along with all of his plays. Along with most knowledge of Shakespeare. So it's pretty obvious what somebody's done.
But it's more than just a few plays. This isn't a story about the power of stories. Neil Gaiman already wrote that.1 It doesn't change history that much if Romeo and Juliet never gets written; it just means that A Tale of Two Cities or Jane Eyre takes its place in the Great Works canon. History dauntlessly2 marches on.
But this is the Marvel Universe, and that means history marches on, but there are key moments. In the history of the Sorcerer Supremes, there are countless magical standoffs. Most of them involved magic words. "But wait," you say, "most of them didn't speak English, or at least didn't do magic in it." And this is true and this is not true. See, magic words are sometimes a genuine pick in the lock of the universe, and sometimes they're just a vehicle to sound impressive and gather confidence while your willpower and mojo do the heavy magical lifting and then they become that pick. And English differs from most languages in that it is completely and utterly an expressive language. There's a reason it's become so dominant: it's easier to invent words in English, as well as steal them, repurpose them, mix their use. Really, plain old English is downright magical in many varied3 ways before you cast so much as a cantrip. Most of Earth's premier sorcerers might talk about how they used the Incantation of Irix in the original pre-Sumerian, and it's always good to have a little razzle-dazzle, that's true. But for their everyday stuff – and when they don't have time to think about how to pronounce pre-Sumerian, which is usually the most important moments – they use English.
Something wants to hobble the English language, one of the greatest weapons of its mystic defenders. Something wants to throttle it. And if you want to hurt modern English, you start by getting rid of Shakespeare, who invented nearly two thousand words and phrases, some of which are so mundane and common ("moonbeam," bandit," "scuffle"…) it's shocking to think that a man sat down and literally thought them from nothing.
Which means that Dr. Strange has to go back in time himself and stop this assassination4 from ever happening. Luckily, he knows a spell that will set aside Ferdinando Stanley, who was not only the patron of William Shakespeare before Shakespeare hit it big, but also Lord Strange of the Barony of Strange.5 Can Strange – over the course of a decade in Elizabethan England – effectively mimic6 his namesake, prevent the actions of those who would interfere with Shakespeare's most vital work, and not arouse7 the troublesome suspicion of John Dee, Queen Bess' court magician?