Recently the Legion of Super-Heroes have reinstituted that greatest of Legion traditions: the election of a new leader. Now, there are those cynics who will claim that whomever the fans select is immaterial because DC Comics will just "find" a bunch of votes for Element Lad again, but I believe in the direct democracy that elected Polar Boy, Timber Wolf, and Wildfire twice apiece. Justice will out, my friends. The will of the people – by which I mean a small handful of obsessive nerds – will prevail.
Now, certain parties on the Internet have begun a campaign for Quislet as next Legion leader, for much the same reason that people enjoy a good fart in somebody else's face. It must be said: Quislet would certainly be an amusing choice for Legion leader, if you're one of those freaks who masturbates to old Jimmy Olsen comics "because they're so trippy" and can put aside the fact that, kitsch value aside, the comics themselves are really kind of stupid in a not-very fun way. Also Jimmy Olsen's bowtie is a crime against nature. Man, was I disappointed when it turned out that Jimmy Olsen wasn't dead last year. Where was I again? Oh, right. Quislet. Yes, Quislet is awesome, but he is awesome in small doses. Much like you do not want to drink Jolt Cola every day or watch more than an hour of Sealab 2021 at a go, Quislet's awesomeness is best delivered in small doses, lest it force one to build up a tolerance to awesomeness and thus become jaded.
Who, then, should be leader? One of the standard go-to candidates like Brainiac Five (will blow up universe), Element Lad (will not stop Brainy from blowing up universe) or Mon-El (can survive universe blowing up, will likely be blase about it)? An outsider candidate like Colossal Boy (stupid), Dawnstar (aloof), Timber Wolf (violent and stupid), Chameleon Boy (delusions of grandeur), Chameleon Girl (only on team because of "connections"), Sun Boy (vain and stupid), Polar Boy (naive and stupid), Ultra Boy (stupider than the rest put together) or Dream Girl (either near-powerless or near-omniscient, depending on writer, and therefore unreliable)? Cosmic Boy for the hundredth time, hoping that he's not going to burn out any time soon? Or maybe we can just be nihilistic and vote for Earth-Man, because voting for the psychotic is so daring.
No, my friends, there is only one candidate who can offer real change to the Legion. Only one candidate who understands that the Legion is not merely a force for superheroics, but whose understanding of societal needs is advanced enough that they know that the Legion must seek to organize within the greater interstellar community for real and lasting change for the better. Someone who understands that superpowers must be used proactively, and not simply in an X-Force "kill them first" way but in a way that makes everything better. Someone who understands that the only thing worse than the Fatal Five is fatal hunger. Someone who understands that the missing key to make socialism work forever is teleportation!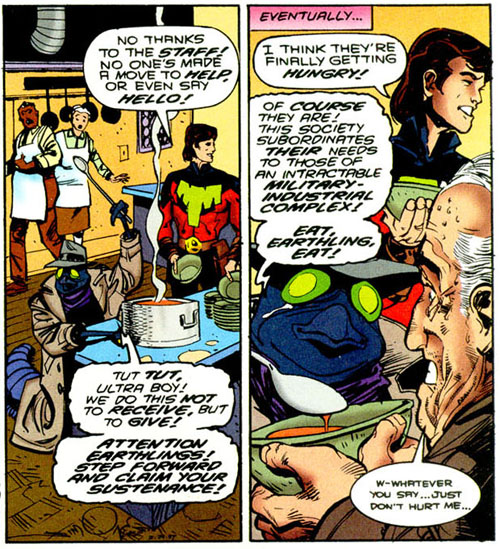 GATES FOR LEGION LEADER