SPECIAL "WITH CONTEXT" EDITION
Most people who are familiar with Akira only know it via the movie and "KANEEEEEEDAAAA!" "TETSUUUUUOOOOOO!", which is a shame because the movie, while visually spectacular, doesn't do the complex plot of the manga justice: Otomo basically kept in the first third of the book and the final sixth, and tried to glue them together to create a coherent whole, and, bluntly, failed utterly to do so. I mean, the movie doesn't even really have Akira in it, whereas in the manga he is a terrifying godlike force whose presence drives the story in the second half.
Anyhow, Akira the manga is about the results of scientists trying to cheat their way through human evolution and then the characters having to deal with (or be) the consequences of that. It's pretty goddamned epic, but one of the reasons it remains great is because Otomo had the good sense to put Kaneda in: as the story progresses to the point where desperate soldiers are fighting demigods with space lasers, Kaneda grounds everything because he has next to no idea what's really going on, and only gets involved because – at least at first – he's trying to get with a girl. Watching him gradually become the hero of the piece, while never losing sight of the fact that he's still kind of a big-mouthed jackass, is one of the reasons Akira's scale is so effective.
Anyway, this all comes to a head when about three-quarters of the way through, Kei (the aforementioned girl) prepares to sacrifice herself against Tetsuo, taking the powers of the assorted good psychics within herself in an attempt to stop him once and for all – and, because she really does love the jackass, finally suggests to Kaneda that they spend a night together. Kaneda, after a double-take or three, loses it because he can't accept her willingness to sacrifice her life, and storms off, saying he'll kill Tetsuo himself (and believe me, he's completely sincere about committing what you know has to be suicide).
And then this, one of my favorite bits in the entire series, when he storms back a second later: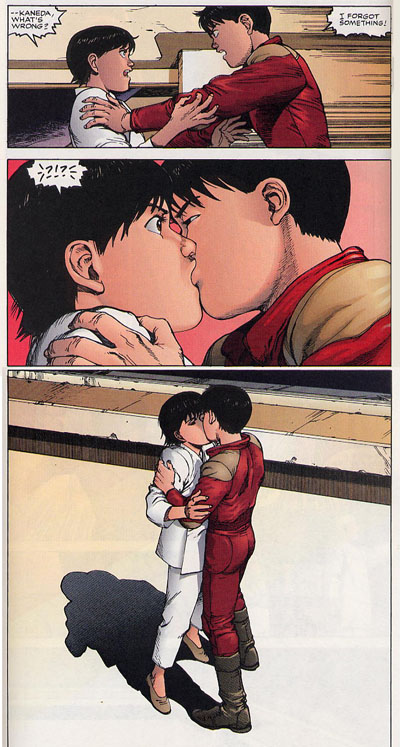 From Akira by Katsuhiro Otomo.