(What I hope is my final bar exam is today, so…)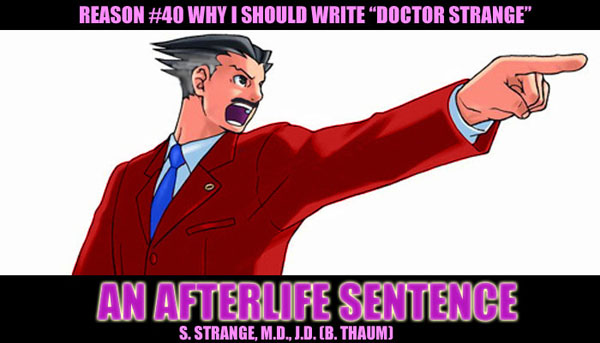 Many people suspect that death is not the end of things, and some of them are right. Others aren't. Death, in the Marvel Universe at least, is a capricious thing. Most everything never comes back: the spandex set has gotten so used to the idea of resurrection that they often fail to realize how many of them never come back. (Go look at the Official Handbook of the Marvel Universe's Book of the Dead sometime. I did the math: about three-quarters of them have never been resurrected.) And that's just costumes. The regular joes of the MU know that dead is dead.
Of course, sometimes it isn't. Sometimes, if you listen very carefully, you can hear the dead. Not with your ears, of course. But you hear them nonetheless. If you've got the right sort of training, you might be able to make out, on occasion, what they're saying. If you tried hard enough, that is. And if you have that training, and you are the sort of person who discovered – relatively later in life than one might expect – that you in fact possess a deep wellspring of compassion, then you might try hard enough. And because you had that compassion, you might take action when you realized that they weren't so much speaking as crying.
What Stephen Strange heard was weeping – fearful weeping. And so he put himself into a state of living death, because how else are you going to visit the nether realms? And he found a professional super-criminal, dead and gone, trapped in a box of their own making: a trial (this particular super-criminal had been through many trials when they were alive) of their entire life. It's grounded in real-world details – a judge, a jury, bailiffs, a set of scales – but it's all ever so wrong, and because this person is already scared every detail serves to reinforce their fear. The judge's eyes don't appear to exist. The jury is at times twelve people and then one person with twelve faces. Sometimes there are walls, sometimes not. Sometimes there isn't a floor except for the faces of people the criminal sort of remembers. They're not friendly faces.
Now, Dr. Strange knows better than most people that we can and usually do influence our own afterlives, but he also knows that just telling someone that doesn't work – the delusion of our souls is too strong just for one to say "well, no, actually this isn't happening." That doesn't work. You need to guide them through it on their own. So Dr. Strange takes up the role of this super-criminal's defense attorney in the last trial of their existence. It's as good an opening as he can manage: by representing the lost soul, he can subtly remind them of why they don't deserve to be here. He can give them peace, which is, for them, the only gift that endures.
Of course, this is the Marvel Universe, which means there's a problem: the prosecutor. You see, the prosecutor isn't a delusion. He's quite real. He knows when opportunities like this pop up, and he's always ready to capitalize. He wants this criminal's soul for reasons of his own – there are always reasons when you're dealing with this sort of being. He wants the guilty verdict: he wants that super-criminal to want to be punished, unendingly and forever, and to choose it themselves. And he's not entirely happy that Stephen Strange has come along to muck things up. But fine, he thinks, let the Sorcerer Supreme flail about; Strange doesn't know the tricks of the courtroom of the soul, but the prosecutor does.
Because Mephisto has done this many, many times before. And his record is perfect.