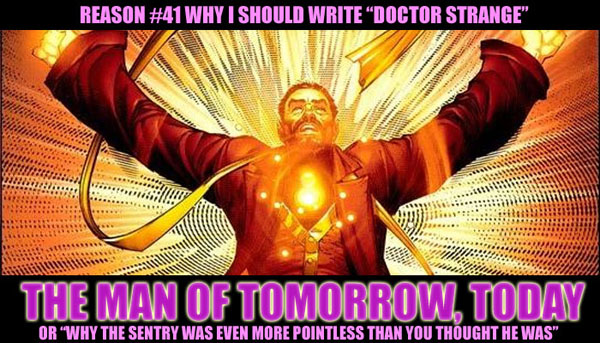 Recently I said that Marvel and DC have two different storytelling paradigms: DC's is fantastic and Marvel's pseudorealistic. Marvel heroes work best when the essential ludicrousness of their situation isn't ignored, and the humdrum problems of everyday human life intrude: Spider-Man has to hustle to keep a job or a girlfriend, Iron Man has to be paranoid about staying on the wagon, the Fantastic Four squabble with one another as families do, Hank Pym has to remind himself "don't beat up any women today," and so forth. Even someone like Captain America, who's pretty close to morally perfect, grapples with temptation from time to time, even if in Cap's case that temptation is usually "be too proactive in doing good." And generally speaking, Marvel's pseudorealistic tone works across the line.
Except for Dr. Strange, and this is why, I think, so few writers these days are capable of cranking out a truly great Dr. Strange story. Dr. Strange isn't conflicted. Dr. Strange isn't on the hero's journey. Dr. Strange left Joseph Campbell behind a long while ago: he's a character who entered the superheroic stage fully formed. He's already finished his hero's journey. He has overcome his flaws. Dr. Strange doesn't attend AA meetings for his drinking problem because he no longer craves booze; he doesn't need rage therapy for his anger issues because he's already solved them. He doesn't fear his own death, not even a little bit. His only flaws, such as they are, are essentially virtues writ large: a stubborn refusal to give up in the face of overwhelming odds is not exactly a detriment to one's character.
This should not be surprising. Dr. Strange only begins his run as a superhero after he has trained for years with the Ancient One. Quite possibly longer than years, in fact – years to us, maybe, but time can be subjectively manipulated in the right hands or right places. His studies probably lasted for decades or even centuries. On top of that Dr. Strange has been to war alongside the Vishanti, a war that lasted for over a thousand years. He doesn't look old, because he chooses not to – but he is old, and with age comes perspective and acceptance.
Now, I understand that for some people this is a minus. These are the same people who think Superman is boring because he has no flaws, and that's a perfectly valid opinion. Wrong, mind you, but perfectly valid. Flaws do not define a character or make him boring: bad writing does that. Flaws don't make interesting stories: conflict does. Flaws just provide one type of internal conflict; choices present another, and the best stories involving Superman and Dr. Strange are about the choices they have to make. (Or about external conflict, which is heaps of fun.) Superman has the "can't save them all" story, which gets reused regularly (and is vitally important for understanding the character); Dr. Strange has the "must condemn someone to save the world" story (same).
Really, the good Doctor is the Marvel Universe's equivalent of Superman in so many ways: he's the 800-pound gorilla of superheroing in his continuity, the guy who, if he shows up in practically any other title, outclasses everybody else when he's being written right. (Which is rare.) He's a source of near-infinite compassion, which is his true superpower when you consider that he is more or less a god walking among men. And all of this, incidentally, just demonstrates how pointless the Sentry really was: the Marvel Universe never needed a Superman analogue, because it already had one.