(Warning: mild spoilers for later books in the Song of Ice and Fire series.)
Well, technically I suppose this is also an open letter to David Benioff and D.B. Weiss, the producers of Game of Thrones. But if I said this was an open letter to them, everybody would just say "huh?" So it's an open letter to George R. R. Martin instead. After all, he is The Man in this regard, I should think.
So: Game of Thrones. It's wildly successful, a show that's both extremely popular and critically acclaimed. HBO greenlit the second season while the first was just really starting to get going, and that's good. I've got high hopes for seeing what you guys do with the big battle in A Clash of Kings, and I'm pleased to see who you've cast in the various major players showing up in book two. Really, I have no complaints with the show so far.
But right now, I'm thinking about your third season, when you're more or less done with A Clash of Kings and have to move on to A Storm of Swords. I know what you're thinking: "Oh, come on. We're working on season two right now. We don't even know if there's going to be a season three. Look what happened to Rome." And yes, this is true. But I feel that someone has to bring up something about book three well in advance. Just so you can keep it in mind if and when it comes time to start working on season three, you see. It makes sense to start laying the groundwork now.
So. The show. It's a great show. But, if there is one criticism you can make (other than the fact that Roz, while hot, is really kinda pointless other than being hot), it's the fact that it's… well…
…It's a very white show, isn't it?
Don't get me wrong: I know that there are conventions and expectations of the genre. I know that people, when you tell them this is a show about knights and castles and swords, think that all of that equals white people. I don't think the fact that your cast is almost entirely white is some kind of sin at all: far from it. Westeros is one culture within the world you've created, and it is a culture that is mostly white people. And that's fine. It's maybe a little irksome that the one distinctly non-white culture you've introduced to us so far is the Dothraki, and the problem of television needing visual shortcuts means you had to cut down a lot of the complexities in Dothraki culture when adapting from book to screen, but it's understandable. The Dothraki are mostly off to one side now anyway. A Game of Thrones being a white-ass show is perfectly understandable in this context.
But in A Storm of Swords, you introduce Dorne to the world stage. Allow me to quote:
The salty Dornishmen were lithe and dark, with smooth olive skin and long black hair streaming in the wind. The sandy Dornishmen were even darker, their faces burned brown by the hot Dornish sun. They wound long scarfs around their helms to ward off sunstroke. The stony Dornishmen were biggest and fairest, sons of the Andals and the First Men, brown haired or blond, with faces that freckled or burned in the sun instead of browning.
If you took out the names and replaced them appropriately, this would describe the population of Iran well enough. Or most Arabic countries, for that matter, or northern African, or… well, you get the point. I'm sure I didn't need to make it, G.R.R.M. After all, you wrote it. The point being: the Dornishmen are brown people. You describe Oberyn Martell as "saturnine, with thin arched brows above large eyes as black and shiny as pools of coal oil," and later explicitly mention that his skin is dark. So that's the point of this letter: when you're casting season three, bear in mind that Dornishmen are, for the most part, brown folks. Cast accordingly.
And you might say "well, why do you need to tell me that? After all, I wrote the damn books. I know what Oberyn Martell looks like." And that's fair. But Hollywood has a track record in these sorts of affairs, and the track record is not good. Let us remember the debacle that was the live-action adaptation of Avatar, where white kids were hired to play characters that were distinctly not-at-all-white? (Worse, they were white kids of middling to little talent, which was just insulting to anybody who gives a damn about this sort of thing.) It's common knowledge that nonwhite people other than Will Smith need not apply to be heroic protagonists in Hollywood these days.
And really, asking to let Dorne be Dorne isn't pushing too hard against those preconceptions. The series is not called A Song of Ice and Dorne. House Martell may be pretty awesome, but they're minor players in the story and we all know that. I'm just saying that you wisely decided that in your books, some of the noble houses of Westeros would be non-white. It would be a valuable thing, then, to extend that to the HBO series, and let people see that knights can be brown too.
Also, most importantly, it would let this dude be the Red Viper: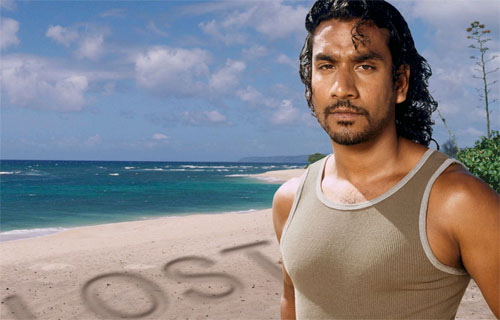 Right? Right? Of course I'm right.