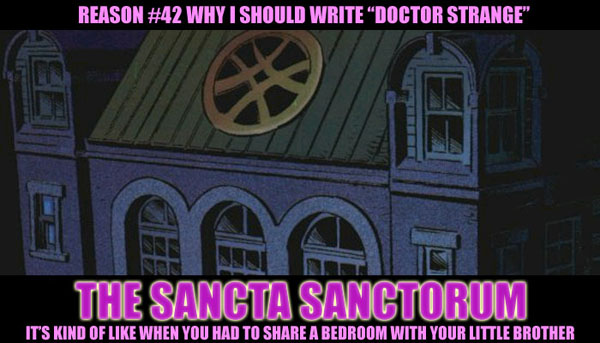 The Sanctum Sanctorum has, of late, become just another clubhouse for capes on Earth-616. The Defenders and Avengers hang out there every so often when they want to be somewhere a little less public than average. The Thing runs one of his three ongoing poker games there. The X-Men and Avengers run fieldtrips there for their students so Dr. Strange can teach them how to fight magical foes. (He doesn't mind doing it, although he always takes care to make sure to inform each young hero's subconsciousness that, although not falling apart in fear is an excellent thing to do with magical foes, that in reality they know next to nothing and therefore their confidence should not be unreasonable. This is about as much as he can realistically do. He has tried to make this work on Spider-Man approximately seven hundred times and it never takes.)
Now, the Sanctum Sanctorum is the headquarters of the Sorcerer Supreme. It is a fantastically important place. Doctor Strange allowing visitors to it is kind of like Nick Fury opening the doors of one of his forty-three hidden secret bases for an open house and bake sale: it's honestly kind of a terrible idea, not least because someone – probably Hawkeye – will poke at something they shouldn't poke at, and the next thing you know demons are invading Cleveland.
But, at the same time, the Sanctum Sanctorum is kind of expected as part of the whole "Stephen Strange experience" now. There's nothing for it: the Defenders all talked to their friends about the place (and since one of them was Hank McCoy that meant a lot of talking) and now it has a reputation. People expect the Sanctum Sanctorum to be mystical and spooky and weird, but also welcoming and safe. It's a precarious balance to strike, and honestly, maintaining it is a hassle.
Which is why there are actually two Sanctum Sanctorums. Not in the Nick Fury way where there are multiple secret bases, and not anything to do with parallel universes. (Reed Richards, one of the very few who knows Stephen's little trick in this matter, always gets a little bit irritated when he proposes a new way to explain how the whole thing works, and Doc's response is inevitably to shrug and say "not really, but if you like.") The Sanctum Sanctorums are both at 177A Bleecker Street; they're the same building and they occupy the same space. If you know how, transitioning from one to the other is really quite simple.
The two Sancta are distinct. One – call it Sanc – is what you would expect the Sanctum Sanctorum to be. There are dribbled candles, extremely moody and dramatic lighting, and shadows cloak everything (even at noon). There are dusty bookshelves with musty old tomes and the occasional skull. The other – call it Tum – is what the Sanctum Sanctorum actually needs to be in order for Doctor Strange to function on a daily basis. It's clean, with comfortable couches and good lighting so he can actually read all of his books. (The bookshelves are all from IKEA. He got them on sale.) There is of course still the occasional skull, but all of the eldritch paraphernalia is neatly stored away for easy access. It is embarrassingly practical.
Of course, since this is magic, the two Sancta have each developed their own distinct personalities – not exactly sentient, of course, but certainly there's something there that is more than nothing. Both are completely sane and willing servants to the Doctor: Sanc is concerned with performance and Tum with comfort. Sanc allows windows to open so that candles flicker at precisely the right moment and howling wind whistles as necessary. Tum makes sure the thermostat is always set at the optimum level and somehow manages to dust itself. They are invaluable assistants. They're a little bit at odds and tend to squabble in ways non-bodied personality complexes can (Sanc leaves a petrified demon raccoon out when someone transitions to Tum, Tum leaves a Swiffer out when transitioning to Sanc), but those are just personality quirks.
Until, of course, something happens, and suddenly these two personalities aren't quite as disembodied as they used to be…