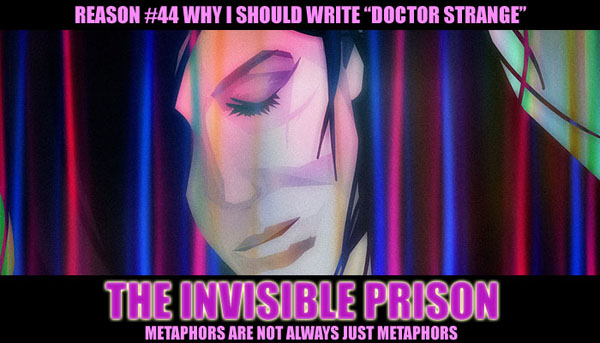 There's an invisible prison, with invisible walls
Invisible cells and invisible bars.
On Wednesdays you're allowed to exercise
Under invisible guards' watchful eyes.
It's not just a metaphor for mental illness, you see. Like most metaphors, it's borne from something quite real. Unlike most metaphors, it's not used in a way unconnected to the original use. The Invisible Prison is a very real thing: it captures one or two mages, sorcerers and wizards every year. Nobody knows who invented the bit of not-very-well-written doggerel that later became a skipping-rhyme (where, one figures, some smart kid grew up, became an expert on mental illness, and coined the phrase to better describe a very real societal problem with no connection to the rhyme's origin). Nobody knows why it happens or how it happens. But they know it happens, and they know what happens to the people it captures. You see them on street corners, talking to themselves and begging for change. (Not all of them, of course. But a very few.)
Of course, lots of cut-rate supervillains have used the gambit since, because "make your enemy think he is crazy" is something every garden-variety sadist can come up with. But all of those supervillains miss the point. It doesn't matter if you try to make Wolverine crazy because sooner or later he'll pop his claws or realize his healing factor still works. It doesn't matter if you try to make Captain America crazy because sooner or later reflex memory will kick in and he'll do something he wouldn't be able to do. You can't convince a superhero that they're delusional – at least, not enough for it to matter.
The invisible library has magazines
Which you read and you dream your invisible dreams
Of when you won't sleep on your invisible cot
And will not get lost in invisible thoughts.
But you can convince a sorcerer of it. Because magic depends on will and belief – and if you doubt your ability to do magic, you won't be able to do it. And if you take away their ability to do magic, then the underpinning of their world falls apart because you've destroyed the defining tenet by which they've organized their lives. It's very effective and it hardly ever fails, which is why there are more than a few wandering, unstable homeless people who still, very occasionally, do magic by accident wandering the streets of New York City (where they are inevitably deposited by the Invisible Prison these days; it has done for centuries now, although before that it dropped people in London, Paris, Rome and Ur).
And, because we're talking about magic, the Invisible Prison has advantages your standard villain-lair-designed-to-convince-the-hero-that-they-are-in-an-asylum does not. Because it's not a physical place (although it can be). In many ways it's more a state of mind. The Invisible Prison is wherever you are, and it takes a different form each time. It's when you wake up in a hotel feeling the end of a three-day bender on which you never went. It's going outside and feeling eyes on you from above, but when you look up they're not there. It's when you look in the mirror when you brush your teeth in the morning (because any mage worth their salt knows that dental hygiene is important) and you see bars in front of you – but only in the mirror. And sometimes, yes, it's a dank cell in a dark pit, in the middle of a complex whose geography is odd and non-linear.
It is as subtle or as blunt as it needs to be, because the Warden (and there is a Warden) provides a tailored experience, whatever will destroy your mind most effectively, be it brutal, terrifying horror or creeping, steady paranoia. And there's a relevant side-effect: once you're in the Prison, you go "off the grid" for the purposes of divination magic. In the Prison, it is as if you never existed – until you leave it, a shell of what you once were. Nobody knows why it does what it does. Some think it's a leftover tool of vengeance by a master mage who wanted to destroy a rival, and that that tool gained a sort of self-driving awareness. Others think it's a conspiracy that tries to reduce the number of magic users in the world (and there are plenty of people who would like that to happen). But given its success rate, it really doesn't matter.
One day you might stride out the invisible gate
After a lengthy invisible wait
But the invisible prison will not leave you whole
It tears at your mind and your heart and your soul.
Now, Dr. Strange isn't going to get trapped in the Invisible Prison. Dr. Strange is the Sorcerer Supreme, after all, and you don't get to that level without being able to deal with psychological warfare – even magically-assisted psychological warfare. The reason anybody knows the Invisible Prison exists in the first place is because a Sorcerer Supreme was the first (and only) person to break out of it in the mid-1400s. The Prison doesn't go after Sorcerers Supreme. Maybe it's because it only wants to grab people it knows it can break. Maybe it's because it was scared off that one time. But in any event, Stephen Strange is quite safe from it.
But if a Sorcerer Supreme were to not live in isolation (as most do), and were to take apprentices (as most do not)… well, then the Prison might find itself a target that would allow it to strike back at the Sorcerer Supreme, albeit indirectly…