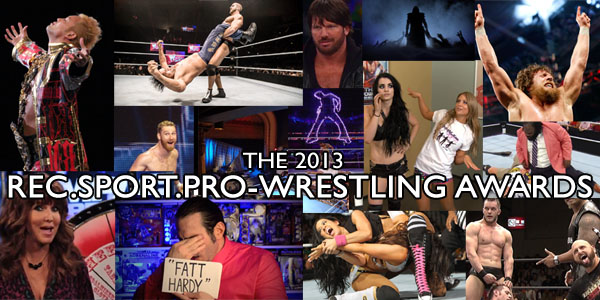 Welcome to the results of the 2013 Rec.sport.pro-wrestling Awards.
We saw a marked increase in voting this year, thanks to large numbers of voters sent our way from Scott Keith, Wreddit, The Mandible Claw, Botchamania, Old School Wrestling Review and lots of other wrestling fan sites. As a result, this year's total votes came out to a whopping 767 – well over a 50% increase over last year. We also saw this year a trend I personally welcome, which was some wrestlers actively campaigning on Twitter – at least a little bit – for victory in the Awards. Granted, none of those campaigns worked, but at least one major fan campaign did, as you shall see.
You can find the results for the "Best of" Awards here.
You can find the results for the "Worst of" Awards here.
Finally, you can find the master list of all vote tallies here.
See you next year!