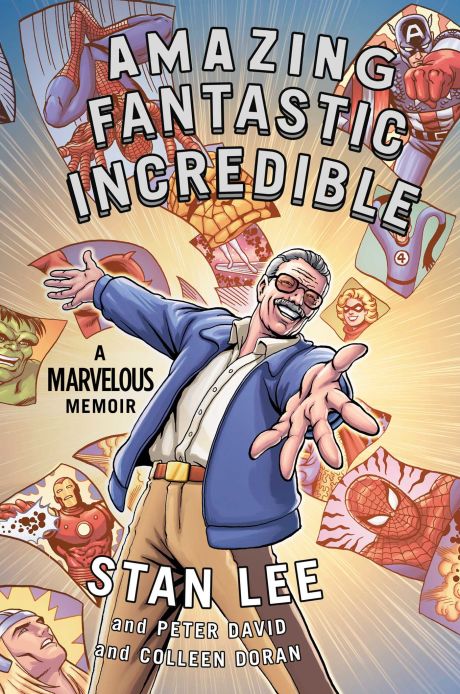 I was kindly sent a complimentary copy of Amazing Fantastic Incredible, Stan Lee's comicbook autobiography (with the "assistance" of Peter David and Colleen Doran) (and yes, reading this, one discovers that Lee follows Jim Steranko's spelling of "comicbook," so for the sake of uniformity I will use it here). To be sure, it has some funny moments. Stan Lee has lots of funny stories, and many of them make their way into the book at one point or another. In particular, Lee spends one page mostly throwing shade at Bob Kane, who is depicted (rightly) as an asshole, and that's probably the highlight of the book because whenever somebody says "Bob Kane was SUCH an asshole" they are A) always right and B) worth commending.
All of that is well and good. But the book has a central problem, and it is this: I just said how Lee spends a page throwing shade at Bob Kane? Well, he spends five pages on the creation of Spider-Man, which is arguably the single most significant thing he did in his entire life. For the sake of comparison, some other page counts in the book: the time Stan Lee met Bill Clinton (three pages), the history of Spider-Man movie development (three pages, and remember Lee was only tangentially involved with most of that), characters Stan has created or co-created with POW Entertainment, such as Stripperella (five pages), the Stan Lee Imagines comics he wrote for DC (five pages), and recording the Merry Marvel Marching Society record (four and a half pages).
What I am trying to get here is that biography, when it's written successfully, can't just be a mostly-chronological list of "things that happened." Biography is the marriage of factual events with traditional narrative structure – real life written into a pattern that resonates with readers. This means (depending on the biography) selectively editing out events, creating arbitrary beginning and end points, or playing heavily with flashbacks and flashforwards to make real life fit into the narrative structure. It's not dishonest; it's style.
And, to be blunt, it requires willingness to focus on the parts of your life you don't like if they're significant. There are at least three major friction points in Lee's life (well, let's be honest, there are lots more than that, but there are three really major obvious ones): his role in Jack Kirby leaving Marvel, his role in Steve Ditko leaving Marvel, and the fallout from the collapse of Stan Lee Media. Kirby's departure is dealt with in three pages and Lee adopts a wholly unconvincing "well if Jack had only told me he was unhappy" position before ultimately appearing to imply it was probably for the best. Ditko's departure is dealt with summarily, in one page, and again Lee professes not to understand why Ditko was unhappy, which is amazing bullshit given that Ditko hasn't exactly kept why he was unhappy a secret (artistic conflict and the completely reasonable belief that Lee was refusing to support him when he did anything that might challenge fan expectations). Lee literally refuses to discuss the collapse of Stan Lee Media in the comic, which is surprising given that by all accounts Lee was duped just as most investors were by Peter F. Paul when the latter committed multiple types of stock and security fraud.
The result of a lack of any real narrative structure combined with Lee's willingness to cover over the more problematic parts of his life with a smear of bullshit makes for a comic that, at its best points, meanders enjoyably through amusing anecdotes, and at its worst just meanders boringly. It's a comic without a direction, because at 93 it appears Stan Lee still hasn't decided what the story of his life is. And that's his perogative! But that doesn't mean we needed a comicbook about it.