I know what you're saying. "Wait, concrete? Like, in buildings? Not the rocky guy in the comcs, right?" And yes, I'm talking about concrete. More specifically, Portland cement – but since Portland cement is the primary ingredient of concrete, we're really talking about the same thing.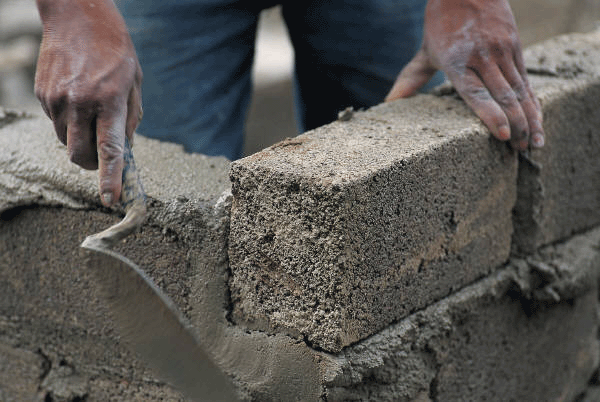 Every ton of cement that we manufacture produces .81 tons of carbon dioxide. Cement is made by pulverizing limestone under high heat, and when you do that, you produce CO2. Lots of it. Chalk in the CO2 cost of production and quarrying, and cement produces CO2 at one-for-one: one ton of cement, one ton of CO2. We the world produce 2.5 billion tons of cement a year. Cement, all by itself, produces five percent of the world's CO2 emissions, and this is generally not well known because people focus their attention (understandably) on fossil fuel use. Hell, I follow global warming science much closer than average, and I didn't know about it until a few weeks ago. To say that it blew my mind is an understatement.
Do we have alternatives to cement? Yes, there are options. Aircrete reduces the amount of cement needed to make concrete greatly by essentially treating concrete like bread (volume enhanced by air). High strength concrete mixes cement with silica fume or fly ash to make a block stronger than normal concrete by far, and with less cement by weight in the finished product. This guy, who apparently has multiple patents for medical cement, claims to have invented a cement manufacture process that doesn't emit CO2 and in fact may even help to sequester it.
But Aircrete needs aluminum powder for its manufacture, and aluminum powder is horrible, global-warming-wise, to manufacture. High strength concrete depends on silica fume or fly ash, and one is mostly found in the Third World and the other you get by either pulverizing or burning coal. And the guy who invented eco-concrete is, as of yet, unproven. (But we can hope.)
Most of the reading I've done on the subject points to geopolymerous cement as being the best remaining hope for ecologically friendly concrete manufacture. G-cement doesn't release CO2 into the atmosphere because it's cooked at a lower temperature than limestone is, and we know it works because, well, it's what the ancient Romans used. The drawback is that you still need some fly ash – but certainly not as much as you would find in high-strength concrete, where you're using it as a binding agent in conjunction with regular old cement. Here, you're using fly ash (or the right type of volcanic ash, if you can get it) as an ingredient in the cement itself, along with various sands. The fly ash is still problematic, but even with it, you're losing vast amounts of CO2 production in the actual manufacture of the cement.
Of course, people have been discussing replacing traditional Portland cement with geopolymerous for more than a decade now, and nothing's happened. Why? Simple: market economics. Geopolymerous cement is more expensive to manufacture than Portland cement. Admittedly, most of that additional expense comes from the fact that there's no economics of scale at work, since nobody makes geopolymerous cement in mass quantities.
The answer here is frankly simple, although conservatives aren't going to like it: the introduction of regulation. Carbon taxation and/or cap and trade might serve as incentives for cement manufacturers to diversify, but I personally prefer the stick to the carrot: allow a five-to-ten year timeframe, requiring production mandates for environmentally friendlier cement, and at the end of it, ban Portland cement. Period. The market is good, but it's too slow; we need action, quickly, in this regard.