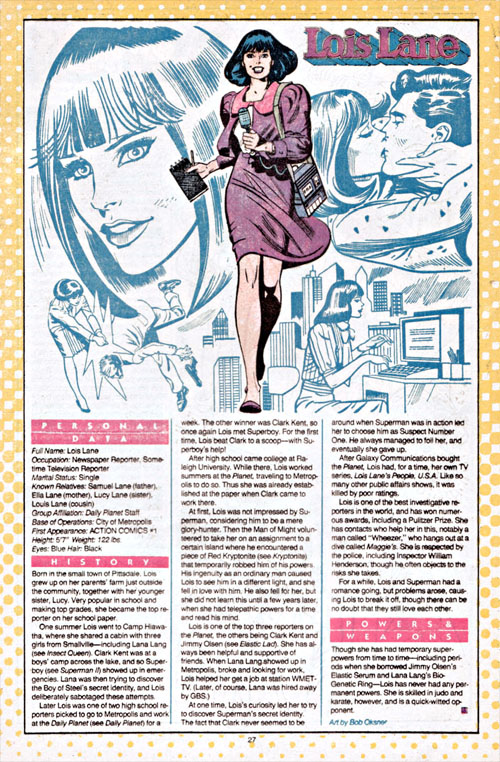 It's worth noting that Lois Lane has a singular distinction among comics characters, being the only non-super (or, at least, non-protagonistic) character to appear in Who's Who.1 No other non-super characters make the cut: not Ma and Pa Kent, not Perry White, not Commissioner Gordon, not Amanda Waller.2
There's a reason why Lois makes the cut and why none of them do: it's because, even nearly fifteen years before she and Clark finally got married, she was established as Superman's equal. Not just his "girlfriend" – at the time Who's Who was published, the end of the Bronze Era, Lois and Superman/Clark were actually taking a break, because the Bronze Age Superman comics had made it pretty clear that Lois already had a pretty good idea that Superman was actually Clark and she wasn't happy about him bullshitting for all those years (not that this made her stop loving him, of course, but it was definitely a bump in the road). Hell, fans had actually been clamoring for the two to get married for some time – not just the pre-internet equivalent of 'shippers, but longtime Superman fans.
This is why: the only natural course of action for Lois and Clark is to get married.
It's really not like any other relationship in comics. For example, as much as I disagree with the idea that Peter and Mary Jane shouldn't be married (and consider it exhibit A that proven comic writers like Mark Waid and Kurt Busiek and many others can still be completely and utterly wrong about characters they've written god knows how many times in certain respects), there's an argument that can at least be made for them splitting up or never getting married, because Spider-Man at his essence is about the virtue of fortitude.3 Fortitude is about picking yourself up and doing good even when life kicks you in the balls, and divorce – or pathetic magic wish fiat – is a kick in the balls. On the other hand, Batman and Catwoman (or Silver St. Cloud, or Vicki Vale, or Wonder Woman, or… well, pick one) can never get together because Batman, at his essence, is about the necessity of sacrifice. Batman not only doesn't not need a happy ending, he actively opposes one.
Superman isn't about any of that. Superman is about truth and justice and doing the right thing; he's a purer story than any of his contemporaries, both at once simpler and infinitely more complex. That's why he deserves a love interest who's just as good and as tough (and understatedly complex) as he is; it's why Lois Lane gradually evolved from being a comedic annoyance to becoming a tough, smart reporter.4 Eventually, because this is comics and that means a little hyperbole is a given, she became the best reporter. Which is fine, because as others have written before: Superman needs a super woman.
And this is the kicker: Lois Lane can't really be a match for Superman if she doesn't eventually figure out the whole secret identity thing. This is because there's a dozen perfectly good reasons why Superman's secret identity should work, and the comics have used them all: because most people just assume he's Superman all the time, because it's not that hard for someone who's practiced to act like two different people and convincingly, because most people really just don't look, because Superman super-vibrates when he's on duty ever-so-slightly to blur pictures of him, whatever. They all work fine, which is why jokes about "it's only a pair of glasses" ring hollow and feel petty.
But they don't work if you're supposed to be an ace reporter who by virtue of being not just good at your job but the best (and Lois is the best) means you're supposed to recognize things as being a bit off when they're off, even if it takes you a while because nobody else would notice it. If Lois is Superman's equal – and of course she is – she has to realize those things happening. That's why just about every satisfactory rendition of the secret ID reveal to Lois has Lois trumping it by figuring it out on her own.5 And once she knows, there's no reason not to get married; that's the only bar. She's not going to accept "it's too dangerous" (and Superman couldn't stay away if he tried).
And really, what's the appeal of a status quo where Lois isn't aware of the truth? Superman angsting about how Lois doesn't know? Lois scheming to prove that Superman has a secret identity? Boring recycled hjinks and Superman robots and Batman pretending to be Superman and other penny-ante misogyny? That shit was stale in the Silver Age – it's why the Bronze Age happened, for Christ's sake – and there's just nothing left in it. Flashback stories are fine; let them be flashbacks. The complexity of a regular relationship suits Clark and Lois to the ground. They have the same problems every other couple does, just in a slightly different way involving evil scientists and tyrant aliens and the occasional giant killer robot. But they have them nonetheless. There's more juice in that than a thousand "oh, how will I get away from Lois this time?" sequences.
There are a significant number of comics writers who think that Wonder Woman is Superman's perfect match, mostly because they've read "Men of Steel, Women of Kleenex" too many times and think that the most important aspect of Superman's perfect mate is whether or not he can fuck her according to the rules they've made up in their head. However, Wonder Woman is a boring cipher. Lois isn't: she's her own woman, and we're well past the point where a Lois Lane ongoing should be back on the stands. (And not Superman's Girlfriend Lois Lane either. She can stand on her own two feet, thank you very much.)
She really is the best female character in superhero comics.