Every Thursday, mightygodking.com returns to the pages of Who's Who, the classic 1980s DC comic book encyclopedia of their characters. Every week, a character shall be judged on the only scale scientific enough that matters: the Rex The Wonder Dog scale.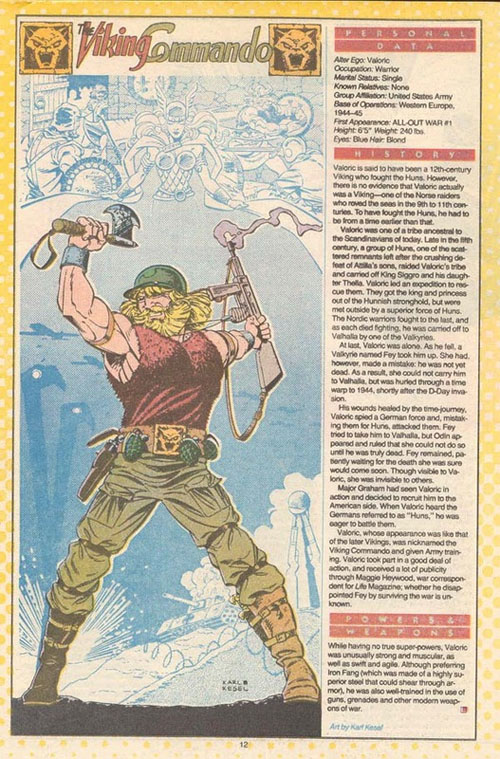 FUN FACTS YOU MIGHT NOT HAVE KNOWN ABOUT VIKING COMMANDO
1.) Honestly, why DC have not brought back Viking Commando in some form is beyond me. He is a Viking who fights Nazis. Do I need to repeat that? A Viking who fights Nazis. I'm just going to say it again in case the pure cool factor has not sunk into someone's brain here: a Viking who fights Nazis.
2.) The following are the lyrics to the theme song from the shortlived Japanese television series adaptation (title loosely translated: "Ancient Mighty Beard Warrior Versus Magic Hitler Dream Army")
VIKING COMMANDO
VIKING COMMANDO
HE'S A NORMAL VIKING MAN TRANSPORTED FORTH IN TIME TO FIGHT THE HUNS
HE'S ARMED WITH A VIKING AXE THAT SOMEHOW BEATS PEOPLE WHO HAVE GUNS
VIKING COMMANDO
VIKING COMMANDO
HE WILL TOTALLY FUCK YOUR SHIT UP WITH HIS EIGHTH-CENTURY NORDIC WAYS
AND SOMEHOW HE KNOWS MODERN ENGLISH, NOW DOES THAT NOT AMAZE
VIKING COMMANDO
VIKING COMMANDO
3.) Valoric (IE, the Viking Commando) was originally going to be the star of The 13th Warrior until Antonio Banderas made it big. Then Antonio Banderas became somewhat less big in a hurry and the movie studios felt very, very stupid.
4.) Did anybody else notice that according to the writeup – that the Viking Commando, a warrior without peer, can't die until he's killed in battle? What happens if he can't find someone capable of killing him in battle? Doesn't that make him technically immortal? Damn, now I have to do a "I Should Write The Legion" where he shows up. The only thing better than a Viking with an axe and a machine gun is a Viking with an Atomic Axe and a psionic ray blaster.
5.) You just know he totally nailed Mademoiselle Marie at some point.
And the tale of the tape is…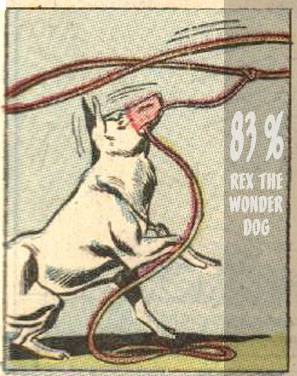 Very high! And do you know why?
Because he is a Viking who fights Nazis.