Every Thursday, mightygodking.com returns to the pages of Who's Who, the classic 1980s DC comic book encyclopedia of their characters. Every week, a character shall be judged on the only scale scientific enough that matters: the Rex The Wonder Dog scale of fantasticosity.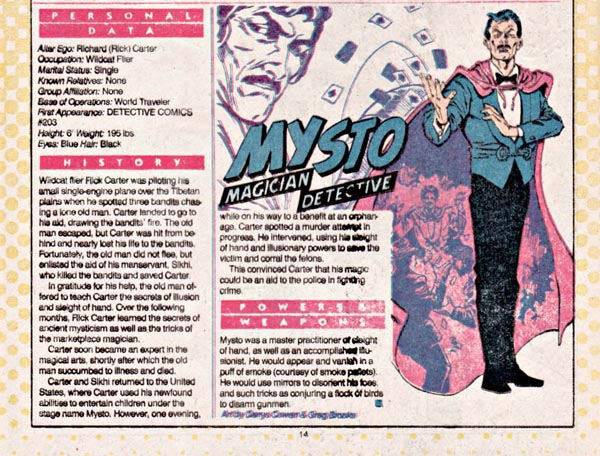 Mysto is quite possibly the first ever character whose spectacular origin
actively makes him worse.
I mean, he starts out as a bush pilot. Bush pilots are cool, right? You even get a glimpse of him up in the corner as a bush pilot. That looks pretty cool!
And then he lands in Tibet and saves a swami sort of person from bandits (well, tries to save – note that Mysto's general aura of sheer pathos starts early), who teaches him ancient mysticism and sleight of hand. Not actual magic, you understand, in the bibbity-bobbity-boo Harry Potter/Merlin/turning you into a frog sense. The swami teaches him parlour tricks. Which, we would point out, makes this Tibetan guru in the hills quite possibly the lamest wise old hermit in the entire history of comics and quite possibly all fiction ever.
So Mysto returns to civilization when the swami dies, and stops being a bush pilot and instead becomes a children's magician. Not even a nightclub magician: his magical skills are good enough to fool kids. So he's not even that good a magician.
All of which leads him to conclude that his mastery of second-degree prestidigitation would best be used to fight crime.
Again: this is the DC Universe (well, early on in it to be sure, but it's not like there weren't actual magical characters in the Golden Age). And he's planning to fight crime with fucking card tricks.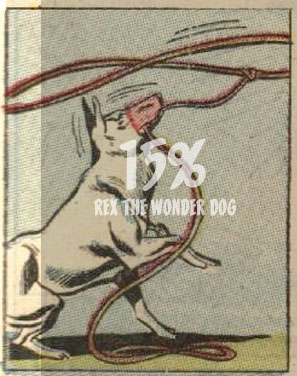 And I'm being generous!