Every Thursday, mightygodking.com returns to the pages of Who's Who, the classic 1980s DC comic book encyclopedia of their characters. Every week, a character shall be judged on the only scale scientific enough that matters: the Rex The Wonder Dog scale of fantasticosity.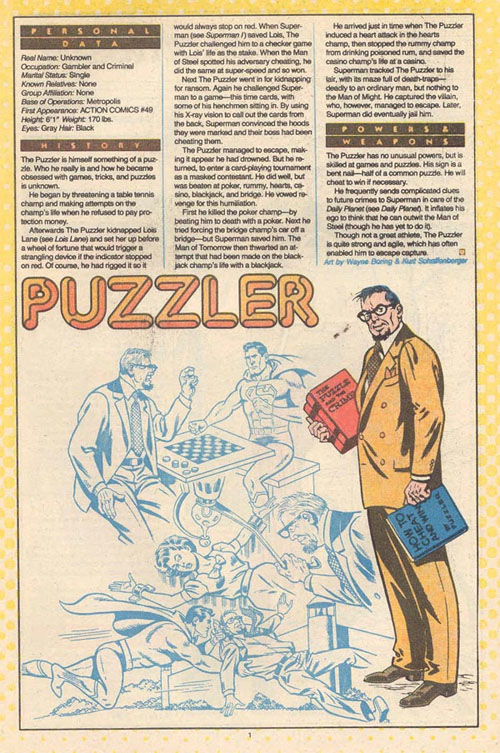 Now, I know what you're thinking. "Wait," you are thinking, "didn't Golden Age Superman already have
multiple
enemies who were middle-aged men and had a "childhood aspects recast as vaguely menacing villainy" motif?" And yes, the Puzzler is just doing something which the Prankster and the Toyman did better. However, in fairness, one must point out that the Puzzler actually showed up
first
, two issues before the Prankster and another twelve before the Toyman.
This is about the only thing you can say in the Puzzler's favour, really.
Because let's be honest: the Prankster is witty and clever, and the Toyman is, depending on frame of reference, anywhere from innocently creepy to supremely creepy. They have evolved beyond "grown man who plays with kiddie things" into character hooks and concepts that can work in multiple ways. And who knows, maybe somebody can come along and make the Puzzler interesting again.
But it's kind of an uphill climb. You know why? Because the Puzzler, in addition to everything else, really isn't very smart. I mean, you'd expect someone whose entire thing is puzzles to be, like, good at them, but no, the Puzzler kind of sucks at his chosen obsession. Consider: he enters a tournament of mixed games of chance, and doesn't win a single one, losing at poker, bridge, hearts, rummy, cassino and blackjack.
So he decides to take his revenge on the guys who actually won in thematic ways. Okay! This is supervillain type stuff. Perfectly acceptable. So first he tracks down the poker champ, and… beats him to death.
With a poker.
No giant maze of cards, no ingenious deathtrap involving a 52-card-shuffle theme, not even something involving clubs. The Puzzler's idea of deliciously ironic revenge is to beat a guy to death with something with the same name as what he lost at. This is repeated when he tries to kill the bridge champ by pushing him off a bridge, and tries to kill the blackjack champion with a blackjack. Possibly it was a good thing that Superman stopped the Puzzler before the villain decided to kill the rummy champ by beating him to death with a bottle of Captain Morgan.
So the Puzzler is really quite unique: unlike the Prankster or the Toyman, who attempt to counter Superman's awesome power with keen intelligence and a madcap sense of unpredictability, the Puzzler attempts to defeat Superman by being kind of stupid.
Every time I think of the Puzzler pulling off one of his "super-crimes," I think of him doing the double-thumbs-point-at-self thing and saying "PUZZLER!" in a loud shouty voice, because he thinks it's awesome when you do that. "Hey! Poker champion! I just beat you to death with a poker! Now you're dead! PUZZLER!"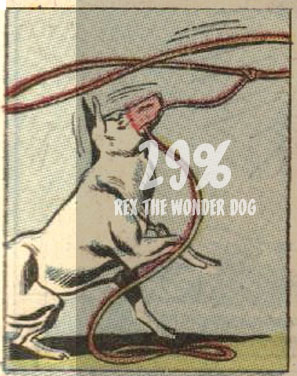 I'm being a bit generous, because it's still possible somebody could revamp the Puzzler into something worthwhile. I mean, did you see how awesome Kurt Busiek made the Prankster recently? Nothing is impossible. (Plus, I have to give props to a fellow wearer of the goatee.)