Every Thursday, mightygodking.com returns to the pages of Who's Who, the classic 1980s DC comic book encyclopedia of their characters. Every week, a character shall be judged on the only scale scientific enough that matters: the Rex The Wonder Dog scale of fantasticosity.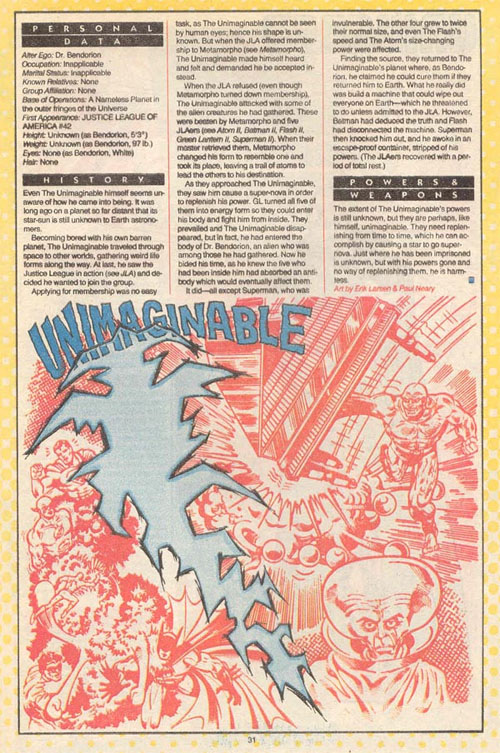 So who's this guy?
He's Unimaginable.
Yeah, but who is he?
I just told you.
You did?
Yeah, I did. He's Unimaginable.
I get that, but what's his name?
That's his name.
What?
Unimaginable.
Is his name?
Yes.
What does he do?
He's Unimaginable.
I thought that was his name.
It is also his thing.
His thing is that he is unimaginable.
Yeah.
So he can do anything.
Well, he couldn't convince the Justice League to let him join.
He wanted to join the Justice League?
Yeah.
That seems kind of imaginable to me.
Well –
I mean, I can imagine joining the Justice League.
Fair enough.
So he's not really unimaginable.
Well, he might be unimaginable. He might not be very imaginative, though.
How did the Justice League beat him?
They probably came up with –
A ha! You were going to say "a plan!" But to have a plan to beat somebody, you have to imagine their weaknesses! That means the Unimaginable is imaginable!
You have trapped me in the sharp points of your logic.
That's nothing. I could also prove that black is white, but I don't want to get run over at a zebra crossing.
Wise of you.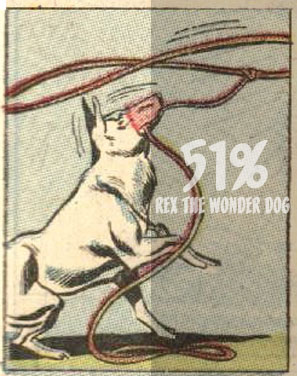 Because essentially the Unimaginable is Mr. Mxyzptlk minus the derby hat. But come on, what would Mr. Mxyzptlk be without the derby hat?