Every Thursday, mightygodking.com returns to the pages of Who's Who, the classic 1980s DC comic book encyclopedia of their characters. Every week, a character shall be judged on the only scale scientific enough that matters: the Rex The Wonder Dog scale of fantasticosity.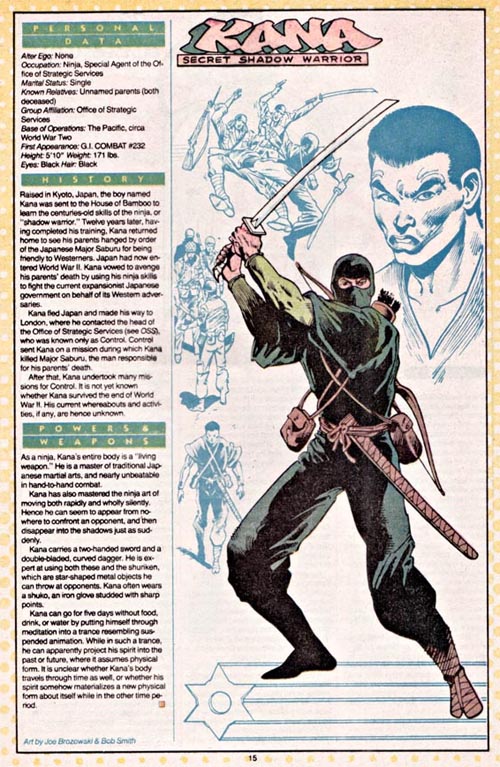 See, once upon a time, Kana would have been all right. When he first arrived on the scene, ninjas were a novelty. There was no American Ninja, no Shinobi video game for the Sega Genesis (and indeed no Sega Genesis), not even a Storm Shadow or Shredder. Kana is a refugee from a simpler time, when men were men and women were women and ninjas were ninjas and dammit, that was enough.
Unfortunately, just because he's old school doesn't really make him very interesting. Kana is perhaps the most generic ninja character of all time. The stereotypical ninja origin – he has an oath of vengeance! (Which, curiously, he carries out by being an agent for the West, which really doesn't make any sense when you think about it for more than two seconds.) Look at his "powers" – the most generic set of ninja abilities ever created. Good with weapons! Hides in shadows! Can meditate! Boy all of this is really fascinatzzzzzzzzz.
The reason nobody knows what happened to Kana is because nobody cares. Or perhaps, more accurately, Kana is so boring that we in fact do know, but nobody can be bothered to tell the story. "Yeah, he did some ninja stuff for a while. Then he opened a dojo and taught ninja stuff to young ninjas." (It would have been a car wash, but a car wash would be in its own small way interesting and distinctive, so Kana would have none of that. If there isn't a bamboo mat involved for him to meditate upon and a bowl of rice at the end of the day, he's not interested.)
But in his own way, Kana is a throwback. Kana is the product of a time when ninjas were the new, the perfect example of cultural exploration at a time when risotto and hummus and reggae and General Tso Chicken were all considered daring and risque novelties of the Other Part Of The World. Back then, he didn't need to be anything more than a ninja. And that's kind of cool, in a way.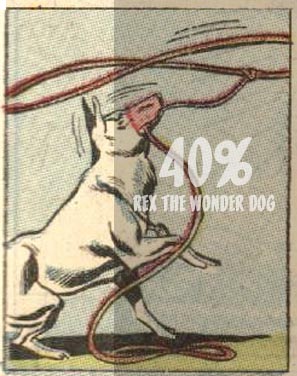 "Generic ninja" is a flat twenty-five percent, but Kana gets bumped up a bit for being the definitive generic ninja, if you will.