Every Thursday, mightygodking.com returns to the pages of Who's Who, the classic 1980s DC comic book encyclopedia of their characters. Every week, a character shall be judged on the only scale scientific enough that matters: the Rex The Wonder Dog scale of fantasticosity.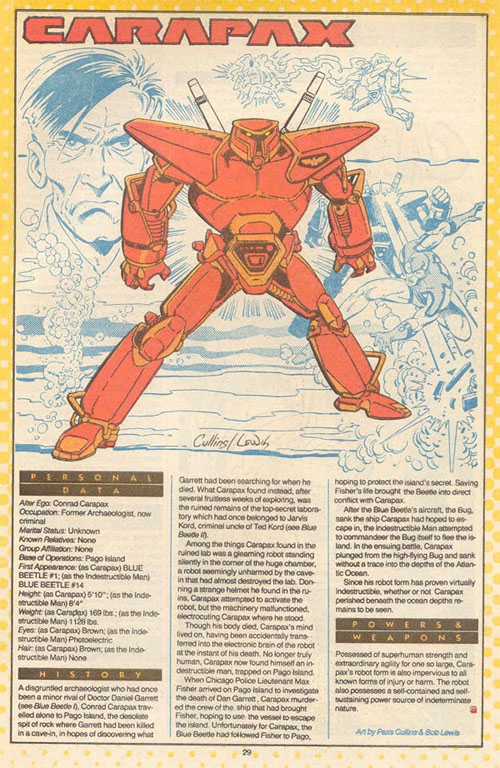 There honestly isn't that much to say about Carapax, because there's sort of a trend for villains introduced in the pages of Blue Beetle or Booster Gold during the 1980s when those two titles, you know, existed and stuff. That trend was very simple:
1.) Show up
2.) Get ass kicked
3.) Disappear forever
Very old-school, mid-70s Spider-Man sort of villainy. (Big Wheel! Hypno-Hustler! And so forth.) And not without merit, because come on, when you're getting your ass kicked by Blue Beetle and you have actual honest-to-god superpowers clearly you need to rethink your approach. Of course, nowadays that generally means "be reinvented as a serial killer" (it happened to Catalyst in JSA), or sometimes "join a larger gang of villains and then get killed off because you are a warm body" (the Madmen, for example).
Carapax is of course no exception, because despite being a man whose body was destroyed and whose mind became trapped within the form of an indestructible battle robot, he got his ass thoroughly outsmarted by Ted Kord, who dropped him into the middle of the ocean. Of course, indestructible battle robots generally don't drown, so presumably Carapax went off somewhere afterwards to rethink his whole "five-year-plan." I have no idea if he showed up anywhere else since.
But if he didn't – well, he is an intelligent indestructible battle robot, and he's got the whole "superpower as ultimate disability" thing going that's worked for many a character ("I don't have a body any more!"), and come on, he looks kind of cool, doesn't he? Like an evil, bright red cross between Boba Fett and Voltron. Besides, let's face it: Can you ever really run out of indestructible battle robots?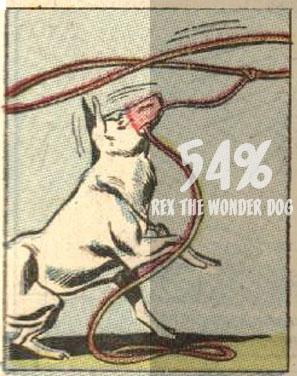 Mostly for potential and cool appearance, I admit, but let's be honest: when Carapax briefly showed up, he did not suck. He did exactly what you would expect an indestructible battle robot to do: blow shit up and not get destroyed. And that deserves recognition!