Every Thursday, mightygodking.com returns to the pages of Who's Who, the classic 1980s DC comic book encyclopedia of their characters. Every week, a character shall be judged on the only scale scientific enough that matters: the Rex The Wonder Dog scale of fantasticosity.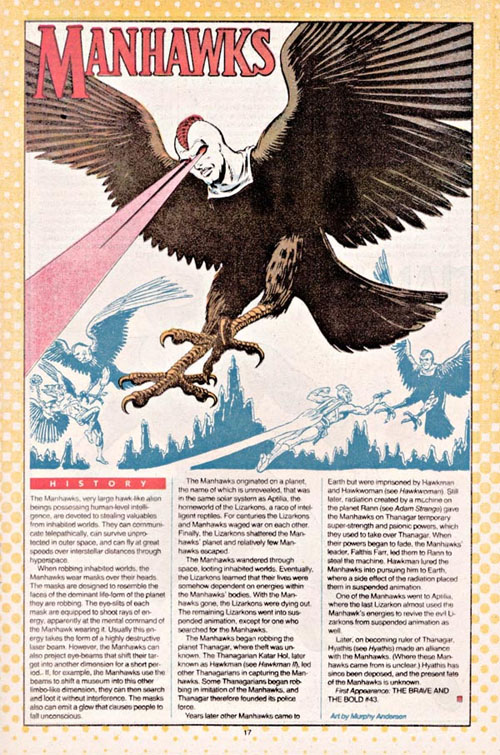 I have to admit, I am completely torn this week.
On the one hand, the Manhawks are blitheringly stupid. First off, the fact that their enemy is Hawkman is just all kinds of dumb – Man-Bat was already pushing the "reverse name" villain concept to its utmost, but at least Man-Bat has a decent concept attached to him. The Manhawks are… giant hawks.
From outer space. With spaceships, which they apparently invented with their talons. And they're telepathic. And they can fly through space (which kind of begs the question why they ever needed spaceships, but I guess they've got them). And they wear humanoid masks. Which shoot eye lasers. And their entire modus operandi is that they just really like stealing things a whole lot. (Because they don't really need money. Because they are giant hawks.)
It's like DC's bullpen was getting drunk one night and decided that this time, they really, really had to see how far they could go before some kid looked up from his comic and said "Mom, what the hell is this shit?"
But on the other hand, I know that when I was eight I would have eaten this shit up with a fucking spoon. And I am a big proponent of the theory that superhero comics should be accessible to – and indeed, whenever possible, targeted at – eight-to-twelve-year olds. Plus, there's some nice touches in there, like the fact that the Manhawks change masks every time they rob a planet, so their new masks match the appearance of the race they're robbing. You have to admire an evil kleptomaniac alien race that just decides to fuck with other civilizations' heads.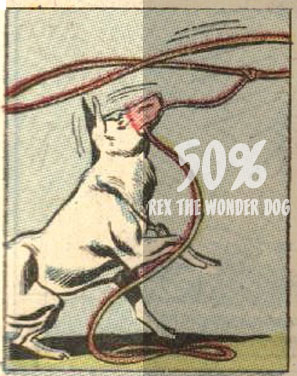 I'm going split decision on this. The Manhawks actually manage to make less sense than a Nazi vampire gorilla or Ice coming back from the dead. But they're still kind of cool, in their way.
EDIT TO ADD: I am only rating the Silver Age Manhawks here, not the updated Manhawks, who reek of "we can make this cooler! To the EXTREEEEEME" and are everything that is wrong with comics.