Mike W. Barr, during his run on the Outsiders, had a real knack for creating mediocre bad-guy teams. The original Force of July set the bar fairly low, and then Mike W. Barr consistently failed to meet that bar of his own creation. The Nuclear Family, the People's Heroes… he just kept churning them out. Every team had to have a theme of some kind, no matter how silly. It didn't matter, because his stories were more about the interpersonal relationships within the Outsiders anyway; nobody really cared who the Outsiders beat up because it was secondary to the idea of the comic. But they had to beat up somebody.
At one point, he more or less abandoned the theme method and just went with his gut.
He should not have done that.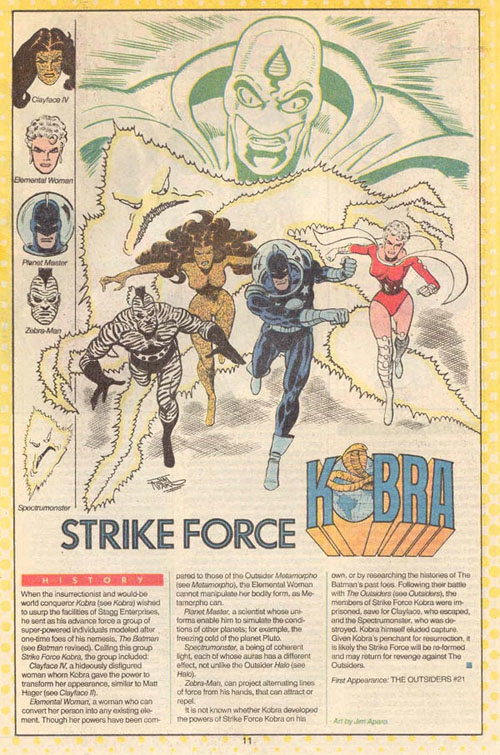 Ostensibly, the theme of Strike Force Kobra is "Kobra's elite team of supervillain mercenaries." But it's Kobra. Kobra sucks. He has always sucked; he will always suck. Kobra is the Toledo Mud Hens of DC supervillains. So, in addition to that theme, Mike W. Barr gave them another theme: they would all be based on Batman villains.
Except not so much.
Going through the team in alphabetical order:
Clayface. Not a new concept, but it's not like there haven't been heaps of Clayfaces. Adding one more isn't going to dilute (heh) the Clayface concept. So we've got a Clayface. This is an eminently reasonable beginning for a fourth-tier supervillain team.
Elemental Woman. Has powers kind of like Element Lad or Metamorpho, neither of whom was ever a Batman villain. This is the point where you realize the "Batman villains theme" is in fact kind of bullshit and Mike W. Barr was just throwing stuff out there. Regardless, Elemental Woman is a generic supervillainess with a generic name and a generic costume. She is a very President's Choice supervillain. (Americans may not understand this reference. Please replace "President's Choice" with your generic supermarket chain-branded food line of choice.)
Planet Master. Planet Master has superpowers based out of his costume, which allow him to simulate the conditions on each of the nine planets. So he can do Mercury (hot), Venus (hot and poisonous), Mars (cold), Jupiter (cold), Saturn (cold), Uranus (cold, makes people snicker), Neptune (hot – I know, you weren't expecting that!), and before Pluto was downgraded presumably he had access to the amazing coldness of Pluto as well.
But here's the thing: each planet-power is contained within its own, individual costume. So if for some reason he's fighting in his Mercury outfit and needs access to his cold powers, he needs to change his costume. Planet Master is the only supervillain in history who presumably brings along a portable changing screen to every super-fight. And why does he need costumes for all the cold planets? Why not just one "cold" planet with whatever additional features are useful (maybe Saturn comes with little rocks or something) and one good "hot" planet. Or, here's a wacky idea, put all the powers in one costume. It's just cold and hot – supervillains with both cold and hot powers are not new.
Spectrumonster. A "living bolt of energy" with powers much like Halo of the Outsiders. Created because Halo needed somebody to fight and presumably a monster made of light would be ironic, like in that Alanis song. You know, "Hand In My Pocket." That's an ironic song! (Because she doesn't have a hand in her pocket, you see.) Spectrumonster is redeemed somewhat for being a cool concept and having a decent name, though.
Zebra-Man. Oh, god. Zebra-Man. Guess what his powers are. If you said "something related to zebras" – you're wrong! Zebra-Man's powers have nothing to do with zebras; he has the power to shoot rays from his hands which can repel or attract objects. Like a magnet, but not. (Or, for fans of the Zoo Crew, like Yankee Poodle.) However, despite the fact that this power has absolutely nothing to do with zebras, he dresses up like a zebra and calls himself Zebra-Man. I am fairly sure Zebra-Man has a really weird sexual fetish compelling him to do this thing.
So, to sum up: we have two reasonable if nothing-special villains, one very generic villainess, and two of the most impressive losers to come down the pike in a very, very long time.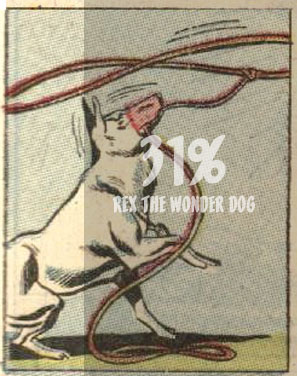 I'll give props for Clayface IV, who eventually found some use within the Batman titles during the pretty decent "Mud Pack" storyline. But Spectrumonster sadly got blown up, and as for the rest… ehhh.