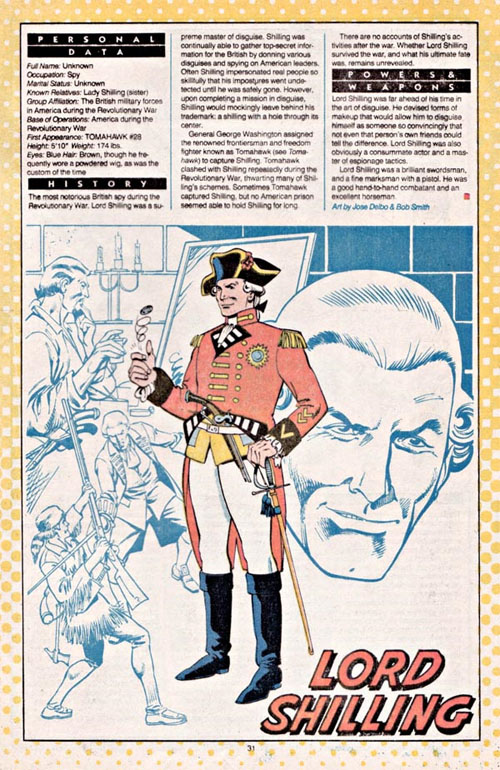 Okay, I know that Tomahawk is DC's Revolutionary War hero (complete with vaguely NAMBLAesque sidekick situation, just so you know he's a DC property), but even so, the idea of a dastardly villain who is a British officer is still kind of comical. It's totally a mindset thing; you have to initially shake off the mental image of him saying things like "Pip pip, cheerio, old boy – oh, Tomahawk, you dasher, you've winkled my plans but good, you Yankee devil you!"
But I really love the art here, because it really does make Lord Shilling look like a nasty badass, or like Jason Isaacs' total bastard character in The Patriot (a movie which, while often kind of silly, at the very least had Jason Isaacs in it – plus, Donal Logue as A Racist Who Learns A Lesson!) – competent, merciless, and one hundred percent All Business. Lord Shilling doesn't have any superpowers beyond being an excellent athlete and a brilliant spy, but he doesn't need any powers to fuck you up. And if you beg Lord Shilling to show you a gentleman's mercy, he'll do it by cutting your throat open. He'll be polite, though, and wait until after you're dead to remark upon how bloody stupid a request that was.
Really, the more I look at Lord Shilling, the more I like him. He's from the other school of British characters, the James Bond/John Steed/anonymous badass SAS colonel mode. He's exactly what a good bad guy should be: competent, cool, can shoot your eyebrow off at fifty paces with a flintlock pistol, and likely has a cutting remark for any situation, even when Tomahawk barely manages to one-up him.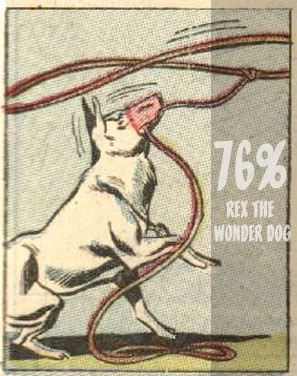 Still – shame about the wig, though.