(Seriously, I have like the worst cold ever, I've been all ugh for like two days now and the only thing I have in the hopper is this. I usually wait three or four weeks to post a new one of these because I like to space them out but I want to get some content up before I keel over and die of the coughing, so here we go.)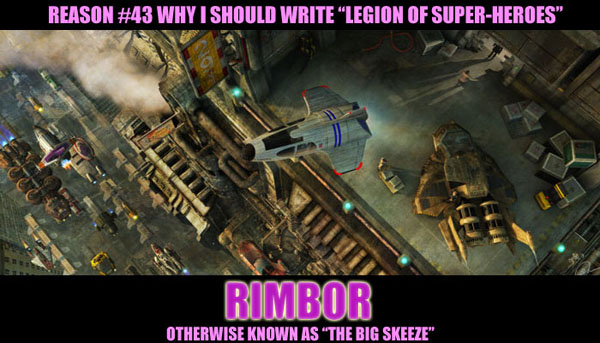 One of the things I've said before that I love about the Legion is the variety of setting, all these weird planets (and, to be fair, normal planets) that can have drastically different ways about How Things Work. Coluans literally worship the concept of scientific research, Titanians don't have a justice system like anybody else because they don't need one because they already know if you're innocent or not, Naltorians invented the concept of "pre-crime" ages ago, Tromians aren't afraid of death because they believe in change as a spiritual systemic concept, the Khund have a belief system somewhere in between modern-day anarchic Satanism and Klingon warrior ritualism, et cetera. All of these societies recognizable to a standard (IE, "our") perspective, but nonetheless different and with ramifications upon the non-cognizant intruder. (Or, as I once called it, the "Wesley Crusher Gets In Trouble On The Eden Planet" syndrome.)
Well, what about Rimbor? For years it's been more or less a generic "bad seed" planet. It has gangs! And crime! And… well, that's mostly it. Ultra Boy is known to have a rough background because he's from Rimbor, but what does that mean in larger context?
The thing that interests me is that Rimbor, even in Mark Waid's reboot where the United Planets was essentially a going-stale utopia, was a crime-ridden scum planet. That has potential, because the fact that Rimbor was gangland central even in a utopically-designed collective implies to me that the United Planets knew exactly what Rimbor was and purposefully tolerated it.
Consider, firstly, the concept of Rimbor as galactic equivalent of Australia. In the early days of quantum warp travel, humanity stupidly decided – not for the first time – that the solution to all societal woes was to get rid of "the bad elements," and that the humane way to do this was to exile them to a nice lush planet somewhere out of the way. Unlike Australia, they actually got the "lush" part right this time: Rimbor was a resource-rich world, teeming with life, almost an Earth 2.0. And thus they dumped all the criminals they could manage and all those people who weren't actually bad or anything but made the mistake of being the wrong person and the wrong time on Rimbor, and considered the matter done.
Unfortunately, the most powerful gangs had scientists in them, and the gangleaders quickly realized that they had all the means to get off Rimbor if they could manage it. Major gangleaders coalesced power around themselves, all attracting followers with the intent of getting the hell off Rimbor. Generations passed, and what happened on Rimbor became fairly unique; political power became neither hereditary nor democratic, but remained strictly a matter of personal charisma. Mistabigs and jonniroyales arose as the new leadership, each attempting to make his leadership permanent beyond their own lifespan, each failing. In an era where personal communication was instantaneous and widespread, and on a planet where destructive power was essentially impossible to coalesce on a permanent basis, progress only happened in incremental spurts.
But it happened, and four hundred years after Rimbor was colonized, they recontacted the United Planets (now utopic as planned, albeit with several false starts). The UP was somewhat horrified at the chaotic morass that was Rimbor ("one large jumpergang of a planet," said one councillor), but wiser minds realized that, even in a utopia, there would be malcontents and rebels. So the Rimborian Compromise was introduced into UP law; a lengthy document that can be summed up in one sentence.
"On Rimbor, laws are technically optional."
On Rimbor, enlistment in the Public Service was entirely a matter of choice (and one not often made); it bred hordes of free thinkers, philosophers, and artists alongside the criminal class which dictated day-to-day affairs planetside. (Most times the free thinkers and artists were criminals themselves. Way of the world, don't you know.) Corporations flocked to Rimbor to maximize their profit potential by having a corporate base where law could be reformed at will, working in cooperation with the mistabigs; Silverale, 3B, S.O.D.E.R. and OmniNewsTimeNet all call Rimbor their home now. The UP's best soldiers come from Rimbor, because having to know how to win a knife-fight from the age of six tends to make you tougher than average.
Rimbor is large and chaotic and dirty, but it's also the third richest planet in the United Planets (after Lexor and Earth). Teachers throughout the UP tell their pupils about the dangers of "lawless Rimbor," which has a dual purpose – both to revile the greater portion of their classes and to keep an eye on those attracted to the idea of it. The Crime Planet is the back alley of the United Planets, but not by accident; when you need to find something in a hurry and you don't care how you get it, Rimbor is always there, and someone can probably help you for the right price. But be sure to watch your back: the only lasting rules on Rimbor are the rules of the street. Don't trust anybody; keep your secrets close; don't trust anybody; fight on your own terms; and don't trust anybody.
I'm sure all of this tells you a little bit about the character of Ultra Boy, of course. But that was kind of the point.
NEXT TIME: A Legion member with Issues ™.