You know, it can't be said often enough: despite the fact that these days DC's fantasy characters from the late 70s and early 80s generally sell worse than Firestorm on its worst day, they're all still pretty neat characters.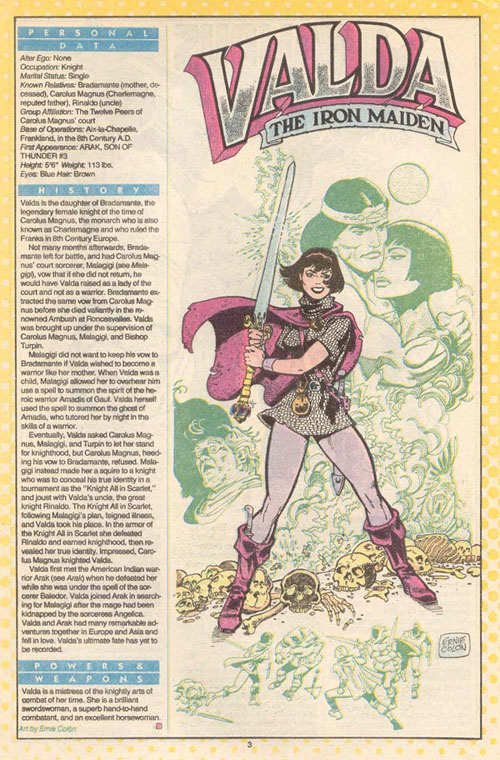 Valda was the main supporting character-slash-love interest in Arak, Son Of Thunder, which itself was a pretty decent fantasy comic (kind of like Conan, but with a Native American hero and a vaguely real-world setting). She was the daughter of Bradamante, the legendary lady knight of Charlemagne's court, and herself a knight like her mother was. Also, she teamed up with Arak to fight demons and ogres and evil knights and so forth.
All of this is perfectly decent fantasy fare, but what elevates Valda for me is this: look at what she's wearing! No chain mail bikini for Valda – no, she's going to wear a full chain shirt, thank you very much! High heels? Those are for courtesans: Valda wears practical boots. And pants! (Okay, tight leather pants, but at least she's got pants on.) For a female character in any genre fiction this is pretty damned impressive – for a female character in a sword-and-sorcery fantasy epic it is practically unheard of. Such practicality is quite awesome, and yet she remains terribly fetching, I must say.
Recently, Valda seems to have been transported to the future for some reason – she's shown up a couple of times in various Shadowpact stories, but never in any great detail or with an explanation for why someone who was born in the 7th century is, you know, still around and all. But let us not overlook the fact that this means she can teach certain female characters about the virtue of practical clothing.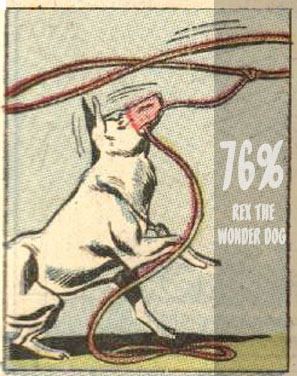 TANGENTIALLY RELATED FUN FACT: Arak, Son of Thunder is the ancestor of Flying Fox, whose magic cloak was a legacy left behind by Arak. Nifty.