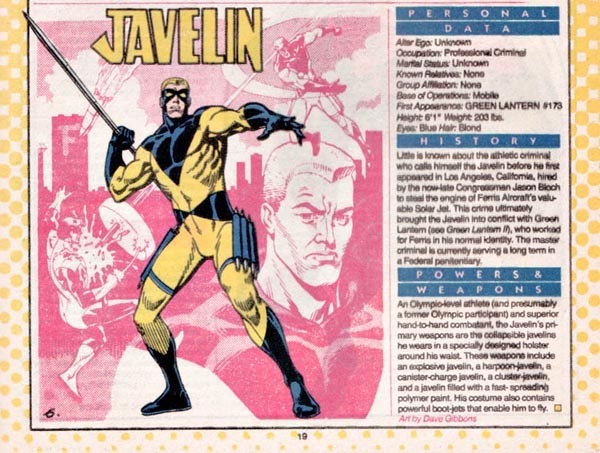 THE CRIME TAILOR: I think you better explain this to me again.
JAVELIN: Well, I have these collapsible javelins, see. So I'm thinking I'll call myself "Javelin."
TAILOR: Yes, I got that.
JAVELIN: I was trying to come up with a color that starts with "J" so I could have, like, a color scheme all picked out for you ahead of time, but I couldn't come up with anything.
TAILOR: Well, there's jade. Jade Javelin?
JAVELIN: Jade Javelin's not gonna work.
TAILOR: Jet black? The Jet-Black Javelin?
JAVELIN: That sounds kind of awkward. Doesn't really roll off the tongue.
TAILOR: …jasmine?
JAVELIN: I thought that was a perfume.
TAILOR: It's a color, too. Kind of a light purple.
JAVELIN: So basically it's lavender?
TAILOR: Yeah.
JAVELIN: Sounds kind of gay, doesn't it?
TAILOR: Maybe, but I don't judge.
JAVELIN: Look, we'll come back to the color later. So I got these javelins, right?
TAILOR: Right. Because you competed as a javelin… guy… in the Olympics.
JAVELIN: The term is "javelineer."
TAILOR: Right.
JAVELIN: Anyway, I got an exploding javelin, and a glue javelin, and an electrified javelin, and –
TAILOR: Sounds like Green Arrow.
JAVELIN: Huh?
TAILOR: Well, it sounds like Green Arrow. With all the trick arrows he's got, you know?
JAVELIN: Yeah, but Green Arrow is a pussy. He uses a bow. I throw these javelins.
TAILOR: Do you throw 'em further than he can shoot an arrow with his bow?
JAVELIN: …I don't think so, no.
TAILOR: Then don't go calling him a pussy. Green Arrow will fuck you up if you go after him.
JAVELIN: I'm not going to Star City anyhow.
TAILOR: Fine. Okay, so I'm thinking something along the lines of this – bright color base with blue-black trim. We can pick the color when we settle on your final name.
JAVELIN: Hey, a couple guys said you were the one to talk to about rocket boots?
TAILOR: I'm not a fan of the rocket boots. Guys want to rely on them, you're lucky to get maybe two minutes' worth of flying out of them before you run out of fuel…
JAVELIN: I just want 'em for an extra edge, you know? A backup.
TAILOR: Look, everybody says that, but then I gotta deal with the complaints when they come back here wearing a backbrace and demanding a refund. By the way, I did mention my refund policy?
JAVELIN: If I ask for one, you shoot me?
TAILOR: Right you are.
JAVELIN: I get where you're coming from, but I still want the rocket boots.
TAILOR: Okay. If you really want the rocket boots, I recommend the Highstepper XLEs. They accelerate real quick, so you get a bit more oomph for your dollar.
JAVELIN: If you say that's the best, I'm sold. Oh, can I get, like, a hip pouch?
TAILOR: For the javelins, right?
JAVELIN: Right.
TAILOR: Sure you don't want a back-mounted quiver? All the European supervillains these days are big on the quiver.
JAVELIN: Back quiver seems kind of like overkill, doesn't it? I mean, look, here's one of my javelins.
TAILOR: Wow, that is small.
JAVELIN: Now, if I activate it it'll extend to six feet, of course, but while it's stored in the pocket… I mean, the hip-mount, I figure it'll work like an easy-access pocket, be more convenient to pull and throw instead of reaching backwards over my shoulder.
TAILOR: What happens if the javelins activate while they're in your pouch?
JAVELIN: What?
TAILOR: If they extend while they're stored, and they're on your back – well, it might get awkward, but worst that happens is you've got a ruined pouch. If your leg is angled wrong, though, and they extend while they're still in a hip-pouch? I can see them, you know. Stabbing you to death.
JAVELIN: Oh, there's microcircuitry in the gloves that has to come in contact with the javelins in order to extend them. I brought the gloves along for your redesign…
TAILOR: I see. Well, that's very well thought out. So, as to color schemes, I'm thinking a sharp forest green…
JAVELIN: No green.
TAILOR: What's wrong with green?
JAVELIN: Green Lantern wears green.
TAILOR: So?
JAVELIN: So I'm gonna be fighting Green Lantern. We can't both wear green.
A pause.
TAILOR: You're gonna fight Green Lantern.
JAVELIN: Well, not on purpose, but I figure Coast City is a nice target. Practically no super-crooks there.
TAILOR: That's because Green Lantern is there, kid. He's got the most powerful weapon in the universe! On his finger! You're gonna fight him with javelins?
JAVELIN: I've got a javelin that sprays yellow paint on things.
TAILOR: Tell you what. Let's make the costume yellow. I think that might come in handy if you're going to fight Green Lantern.
JAVELIN: Excellent. It's all coming together!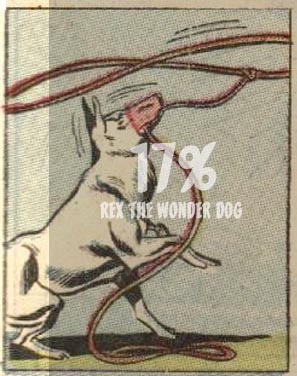 Because he fights Green Lantern with javelins.