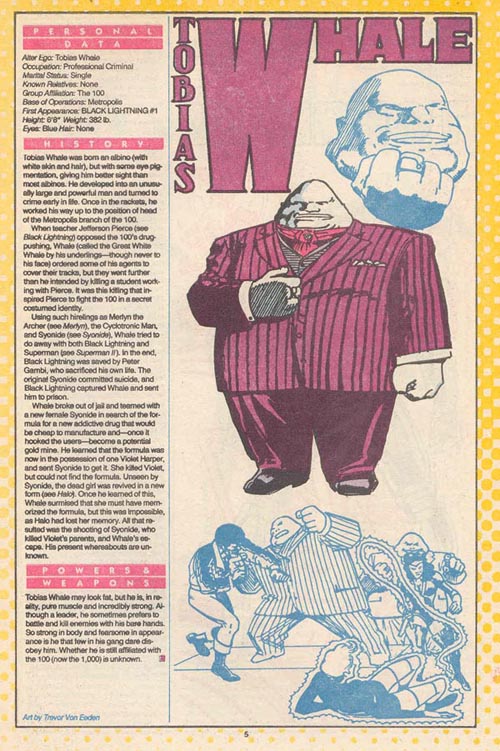 Who can forget all those classic Tobias Whale stories?
Like the time he was challenged by a rival boss, and he and Black Lightning continued their feud, but it turned out that the rival boss, the Dolphin, was actually his son! Dramatic! Turns out his son only found out about his father being a crime boss relatively late and never got over it. Of course, years later this would lead to the Dolphin trying to kill Tobias Whale, and in turn being murdered by his mother, Whale's wife Vanessa.
Or the time he sent the Terrible Trio to fight Nightwing for some reason.
Or like the time he sent Killer Frost after Black Lightning. Killer Frost and Black Lightning had a wicked awesome fight, but Killer Frost was all conflicted about fighting with her lover, so she refused to fight him. This pissed off Tobias Whale, so he sent Deathstroke to kill Killer Frost and she died in Black Lightning's arms.
Or the time he traded the nonexistent "Black Lightning Papers" to federal agents in exchange for his freedom, but the Penguin, pissed that Whale was getting off, told the feds about another murder for which Whale was responsible. So Whale ended up in the same prison as Black Lightning in an ironic twist, and then the prison started advancing towards a riot as Whale and Black Lightning played their deadly game, then Deadshot got himself sent to prison so he could give Black Lightning a hand because he felt he owed Black Lightning a favour, and then Tobias Whale sent for Deathstroke, and then all hell broke loose.
Yes, Tobias Whale has been in so many great stories. But that's what you expect from such an original character!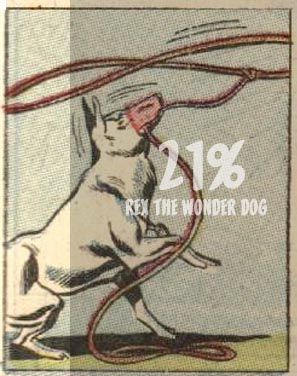 Kingpin would get around a 90, so that's your explanation.