I was recently looking through scans_daily, and came across this post, wherein various posters debated the merits of Peanuts. One noteworthy poster claimed it was nowhere near as good as either Calvin and Hobbes or Dilbert. (Frigging Dilbert!)
People. Listen. This is not something I generally say, because I recognize there are many artistic works that I just do not "get" that I recognize are nonetheless of reasonable quality. (My Name Is Earl, anything Jane Austen wrote, most speed metal, et cetera.)
But if you do not like Peanuts, much less think it is in some way not good, then there are only two reasons this could be the case.
1.) You have not read much in the way of Peanuts and are ignorant.
2.) There is something the fuck wrong with you.
This is not up for discussion, unfortunately. These are your options. Sorry!
Also mentioned in this post, the popular – and wrong – concept that Peanuts was only good until an unspecified time and date (usually somewhere in the early 70s, although this is left indistinct by most people making the argument because they have no idea). True, Charles Schulz had a steady run of unparalleled greatness from 1954 until about 1978, and for the rest of his time spent drawing the strip was not quite that good (I mean, come on, that's twenty-four years at the top of his game for fuck's sake! Bill Watterson's entire career only lasted ten! Berke Breathed burned out on a daily schedule after less than nine! Even Gary Larson only managed fifteen!), but even after his peak, Peanuts remained intelligent, introspective, and entertaining, with regular glimpses of where the strip had been in its finest years.
Just for the sake of argument, I'm going to present now a few Peanuts strips from the twilight years of his career.

1993: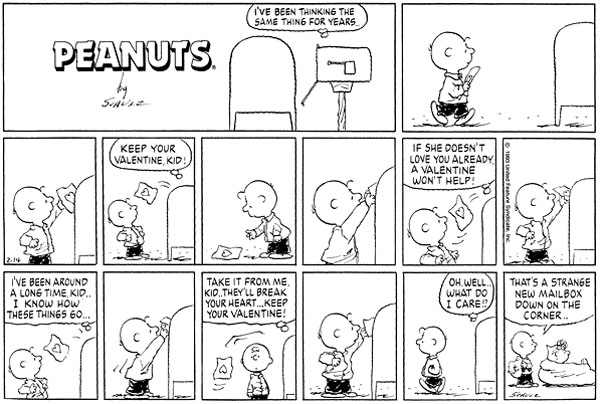 1995: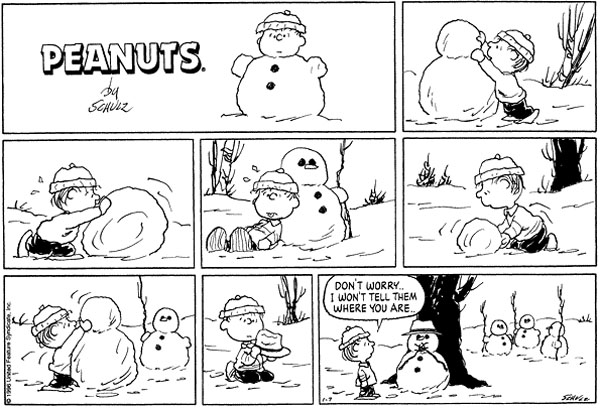 Before anybody says anything: Peanuts was doing snowman gags as early as 1953. Watterson freely admits that his snowman gags with Calvin are homages.

Schulz did an entire series of these over the years, starting in the late 1980s, all with Charlie Brown in the dark, lying awake and essentially imagining that God is admitting his cruelty. My god, how does this shit not blow people's minds? He was doing this in the most widely syndicated comic strip in the world.
1997:

Note the increasing shakiness of Schulz' lines. He was drawing the strip even as he suffered great pain from colon cancer and the associated chemotherapy, but he never missed a day.

I love Peppermint Patty's pure optimism in strips like these.
1999: (the last full year he did the strip, just before his death in January of 2000)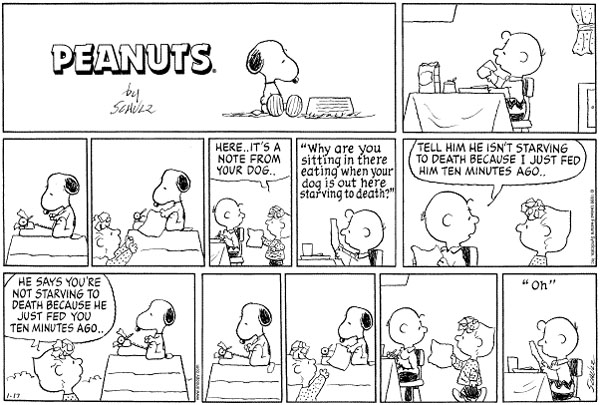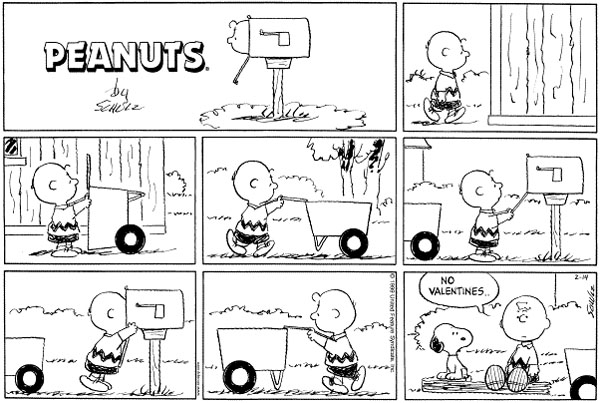 That's the gag! Nobody loves Charlie Brown! That's the punchline. BLEAK.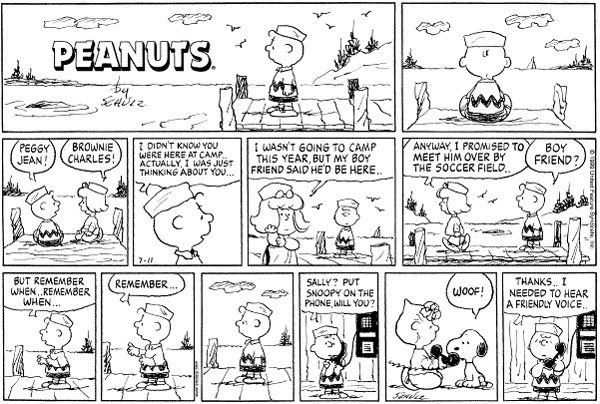 Come on, that line could have been on Arrested Development easy. Just imagine GOB or Buster saying it.