Sometimes, you just need the sort of villain who can get beat up by El Diablo, the Olympian or a random member of the Blood Pack. This is fine and good; even D-listers need their little victories. And for those little victories, you know where to go.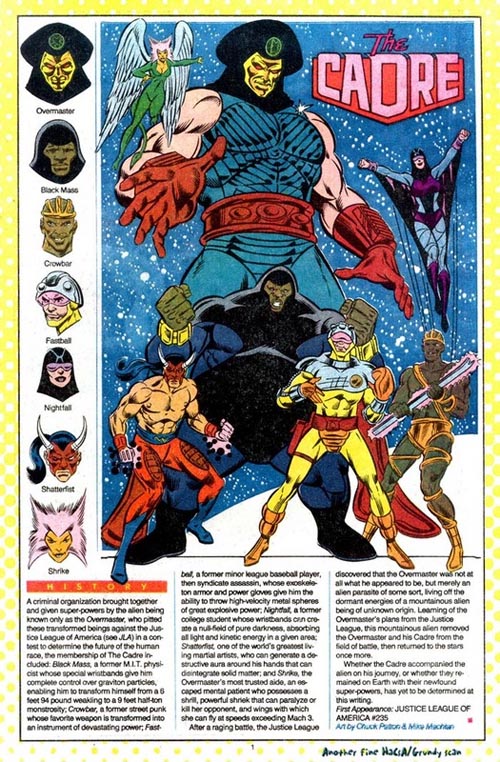 The Cadre got their start fighting D-list superheroes by fighting the Justice League. "But wait," you say, "the Justice League aren't D-list!" Ah, but this was the Detroit Justice League, featuring Vibe, Gypsy, Vixen (long before Brad Meltzer decided she was very very important) and Steel (not the black guy with the hammer, but instead the cyborg who doesn't look like a cyborg). Sure, they also had the Martian Manhunter and Zatanna around, but let's be honest: loser is as loser does. This is the Justice League that Aquaman organized and then promptly quit. That should tell you something right there.
And who are the stalwarts of the Cadre? Well!
Overmaster. An immortal alien, and the leader of the Cadre, responsible for creating all the other members. He was eventually killed by the second Amazing Man. By accident. This should tell you something about the Cadre right off the bat. (Admittedly, Overmaster did manage to kill Ice, but it's not like that took.)
Nightfall. A college student who, when asked by the Overmaster if she wanted to become a supervillain, basically said "what the hell." (Maybe she had a really vicious sociology exam the next day, and she totally hadn't studied for it, because she was playing beer pong all night with the Kappa Kappa boys.) Nightfall's power is to create a field of pure darkness which extinguishes all light. This was cool when Phantom Lady and Dr. Mid-Nite and Shadow Lass all did it, except that all of those superheroes can, you know, fight in the dark. Nightfall can not quite do this so much. Also, for some reason, she can fly. Why she can fly and most of the rest of the Cadre cannot is something that has never really been explained too much. Maybe the rest of them never thought to ask, and after the fact were too embarrassed.
Black Mass. A big fat guy with gravity powers. Black Mass is most notable for being shot through the head in The Joker: Last Laugh, and then somehow surviving both that and the subsequent black hole he created by accident. Black Mass is actually kind of badass accidentally. I mean, he got shot in the head, was rendered brain-dead, and somehow got better. That's goddamned freaky, people.
Shatterfist. His gimmick is that if you squint he looks kind of like an evil luchador. Also he has fists that can, well, shatter things. Shatterfist got killed by Ice when she was taken over by Overmaster and went all crazy. After this, somebody else decided to become Shatterfist, despite the fact that there was no Overmaster around to give him shattering-fist powers. Presumably, given the remarkably generic nature of Shatterfist's powers and costume (why does he have horns? Was the mask on sale?), he ordered them over the phone. "Hi, I'm an expert-level martial artist but I just don't feel that's enough to compete in today's market. What do you have in the way of powers that could augment my martial arts abilities?… no, I don't want to turn into a bear, thank you… no, not an eagle either… no, not a panther – look, could we skip past the turning into things powers and get to the fighting powers, please? I get that they're thematic, but this phone call is long distance."
Fastball. A former baseball player (of course!) who was given a robotic exoskeleton with which he could throw exploding balls. No, seriously. This is what he does, people. Also, he chews tobaccy. No reason, he just likes it. I am desperately trying to come up with something to say about this guy and I'm failing, because he's so boring. Maybe there are robotic pole-vaulter exoskeletons as well? Robotic decathlete exoskeletons? "Fear… the Hurdler!" No, never mind, that's boring too.
Shrike. You know Swift from the Authority? Like that. Except less interesting. She died in an issue of Suicide Squad, which – well, come on, you had to expect that at least one of these guys would die in an issue of Suicide Squad. Really, the amazing thing is that so many of them have survived for so long in this day and age, when you think about it.
Crowbar. Crowbar and his sex-pervert costume are notable in many ways. First off, Crowbar is one of the few villains in comics history to lose their trademark villain weapon in a card game. (Yes, this really happened.) Captain Cold, for example, knows not to gamble with his cold-gun, because Captain Cold is not a goddamned idiot, but Crowbar – well, Crowbar is special. He made his costume himself, you know, and he thinks it's the coolest thing ever, because he made it up to look like a bunch of crowbars wrapped around his private areas! It's thematic, you see.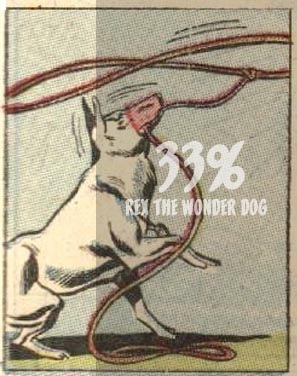 You know, lame as they might be, the remaining members of the Cadre serve a purpose. Some villains are good for being the focal point of a lengthy story – not these guys. Some villains are good for when you need to have a rookie hero prove themselves – that's not the Cadre either. The Cadre are the villains you need when you need to have a scene where your hero meets up with the other hero you want to write a teamup story for, but that other hero needs to be busy fighting bad guys to show that he deserves to be in your hero's comic book on equal ground. The Cadre are the guys that other hero beats up. It is their purpose. And they are very good at getting their asses kicked.