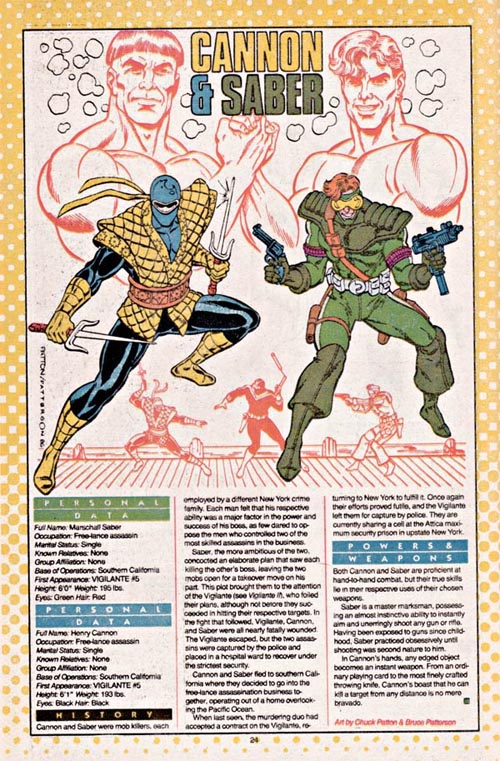 Cannon and Saber (ironically named, because the assassin who uses guns is Saber and the assassin who uses blades is Cannon) struck an early blow for comics equality everywhere by being a gay couple who avoided traditional gay stereotypes to become a pair of deadly killers instead. Admittedly, noted family activist Donald Wildmon might say there is no difference and all gays are in their own way killers, but Donald Wildmon is whining about the erosion of the traditional family model and Cannon and Saber kill people with guns and knives, so I would suggest: different.
I am not being facetious or snarky, either. In the comics, Cannon and Saber were quite clearly a gay couple – the subtext was, as they say, text. And on top of that, years later some fans to whom this was important asked the writer who invented Cannon and Saber (I believe it was Doug Moench, but don't hold me to that) if the pair were a gay couple. The writer's response was essentially "well, duh." Cannon and Saber are a gay couple. It is canon. (And saber.)
Cannon and Saber are further made good by appearing in the second Vigilante's comic. The second Vigilante probably had the best run of comics, despite the fact that the first Vigilante (the cowboy with the motorcycle who showed up on Justice League Unlimited a few times) is probably the more iconic Vigilante. (As for the later Vigilantes, let's just pretend they never happened. At some point you know Geoff Johns will make it so that this was the case anyway.) This means that there is an active lack of bad Cannon and Saber stories, which is always a nice thing.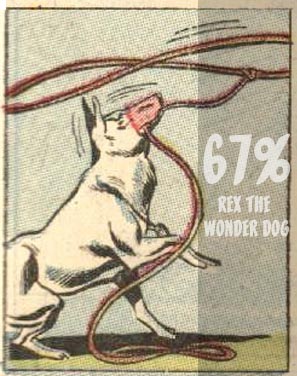 Because they are skilled assassins who are nonetheless capable of making tolerant second-year university chicks go "awwwwww!", and that is a skillset both rare and in demand in certain quarters.