Really, making fun of Legion supporting characters is like shooting fish in a barrel slender tube specially-constructed fish-constraining chamber attached directly to the barrel of the gun and removing the necessity to aim. There are plenty of goofy characters throughout Legion history, starting with Matter-Eater Lad and continuing on with classics like Tyr (possessor of the world's stupidest-looking cyborg arm), Gas Girl (Hero of Lallor, with one of the worst superhero names ever), or of course any of the Wanderers.
But sometimes you just gotta.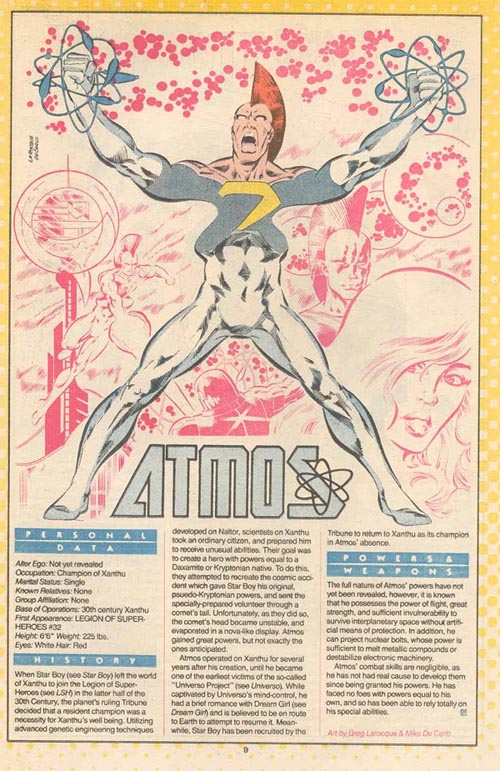 SCIENTIST: So we have this new process for creating a superhuman we'd like you to try out.
ATMOS: Excellent! Let's do it!
SCIENTIST: …don't you want to know how it works?
ATMOS: Nope! Powers away!
SCIENTIST: Maybe you'd like to know what powers you'll get?
ATMOS: I'm sure they're good ones! But tell me anyways.
SCIENTIST: Well, you'll be able to fly.
ATMOS: Flight! Always good! The standard for any superhero!
SCIENTIST: So you like that.
ATMOS: Why wouldn't I? Admittedly, I could just get a rocket pack or something. I mean, this is the future.
SCIENTIST: True.
ATMOS: But flying solo has style. So I'm excited about flying. What else am I getting?
SCIENTIST: Well, you'll get some super-strength.
ATMOS: Fantastic! Super-strength! Again, sort of a generic power, but this time not easily duplicable by science, and I can see where, as a superhero, I might need to punch things very, very strongly.
SCIENTIST: Or open a really tough jar.
ATMOS: It indeed amazes me that even in the 30th century we have not mastered the science of easily opening jars.
SCIENTIST: Your jar-opening skills will be improved approximately ten thousand percent by this process.
ATMOS: Good to know.
SCIENTIST: You'll be tough, too. You won't need to breathe in space.
ATMOS: That's good, because what if I got tired while I was in space and needed to take a moment?
SCIENTIST: …yes. Oh, and you'll get some nuclear bolts which you can fire from your hands. They'll blow things up.
ATMOS: Excellent! This sounds like a decent little superhero package you've set up here, Doc. Hey, what's that on that screen there?
SCIENTIST: What, that? …oh, nothing.
ATMOS: Looks like me!
SCIENTIST: Well, yes, it –
ATMOS: …where are my armpits?
SCIENTIST: You don't really need to worry about –
ATMOS: Doc, come on, where are my armpits in that image of me? Why would you need an image of me minus armpits?
SCIENTIST: Well, if you must know, we think the superheroing process will vaporize them.
ATMOS: Vaporize them?
SCIENTIST: Yes.
ATMOS: That sounds like it'll hurt.
SCIENTIST: Well, technically they'll still be there, so it won't be like you'll feel them cut away or anything like that. They'll just infinitely dissolve into seven-dimensional fractal space, and appear to be gone to normal three-dimensional sensory perception.
ATMOS: So it won't hurt?
SCIENTIST: Define "hurt."
ATMOS: And how will I put on deodorant now?
SCIENTIST: Well, that's the clever part. See, the smell of your armpits won't transfer through the dimensional bleed, so therefore –
ATMOS: Never mind that. That looks freakish, Doc!
SCIENTIST: So? You'll have superpowers.
ATMOS: Yeah, I'm all for the having superpowers, but I'm going to look weird! How am I supposed to get chicks if I look like an action figure left on somebody's plasma radiator?
SCIENTIST: Is that really important?
ATMOS: Hell yes it's important.
SCIENTIST: …well, I've got this additional chemical process I could combine into the nutrient bath you take before we activate you in the comet trail. It would give you subliminal hypnotic powers.
ATMOS: Subwhattamal huh now?
SCIENTIST: You could make girls like you.
ATMOS: …isn't that kind of like date rape?
SCIENTIST: Maybe a little.
(Pause.)
ATMOS: But only a little, right?
SCIENTIST: Definitely.
ATMOS: Okay! Let's do this thing, Doc!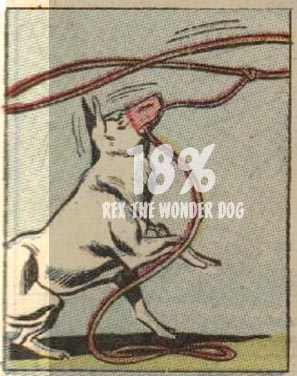 Tragically, Atmos was killed by B.I.O.N., a later-stage variant of C.O.M.P.U.T.O., in the "Five Years Later" Legion run. His armpits were never found.