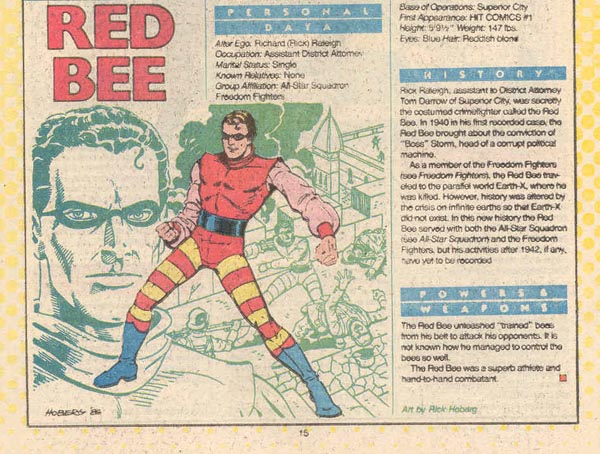 Hoo boy.
See, nowadays the kids, they make fun of Penance or Red Hulk when they want to make fun of stupid superhero character concepts. But back in the day? We had the Red Bee.
The Red Bee, a superhero whose power was that he had trained bees. Really. That was it. I know, I know, it sounds awfully dismissive to mock this guy with his bees; after all, the idea of training bees is by itself rather impressive, when you think about it. Somehow, the Red Bee can control whole swarms of bees! That is, in a low-key way, really rather impressive. I mean, Granny Weatherwax had to work her way up to doing that.
(Well, presumably he could control whole swarms of bees. The question of how he controlled the bees is as yet unresolved. Even Who's Who seems willing to concede that it is possible and even likely that the Red Bee did not in fact have any bee-control powers per se, but instead was just a guy running around with a lot of bees.)
However, the problem is that while controlling swarms of bees might make you a great behavioral scientist or perhaps an up-and-coming honey magnate, as superhero powers go it is not the most impressive trick one can get, is it? If you are the Red Bee, twenty feet away from some gangster when he pulls out a gun, and you pull out your swarm of bees, the gangster can just shoot you and then the bees will presumably go find something more interesting to do with their time than sting the gangster to death. Because they are bees. They will establish a hive somewhere and then begin pollinating flowers. Because that is what bees do.
(And again, we do not know that he controlled the bees as such. But come to think, even if he controls the bees, where does he keep the bees? A swarm of bees is not exactly compact unless you cram them all into a little box and crush/smother them to death. And in the few Red Bee appearances I have read, he kept multiple swarms of bees on his person. Then again, maybe he just throws clumps of dead bees at people and hopes that they panic and scream "OH MY GOD BEES" and don't notice that the bees are dead.)
Now, in fairness, the Red Bee always gave a good accounting of himself, right up until he got killed. Like, in All-Star Squadron, he joined Uncle Sam's reformed Freedom Fighters and journeyed to Earth-X (the fabled Alternate Earth Full Of Nazis), where he fought Nazis with bees! Until some Nazis shot him. Of course, that was pre-Crisis. Post-Crisis, we don't know what happened to the Red Bee, although in a James Robinson Starman story the ghost of the Red Bee revealed that he got his ass kicked and presumably killed by gangsters, possibly after he fought them with bees. James Robinson also wrote The Golden Age, wherein the Red Bee gets killed in one panel by the bad guy. (No idea if he fought that bad guy with bees.) This makes James Robinson notable for managing to kill the Red Bee twice. Even Roy Thomas never did that, and Roy Thomas was Geoff Johns before Geoff Johns was Geoff Johns.
(Hey, I just noticed that the Red Bee is a district attorney in "Superior City." Man, in the DC Universe, what the hell kind of city calls itself "Superior City?" You've just got to believe that it's, like, the DCU equivalent of Newark or Toledo or something, a smallish-to-middle city with Big Hopes And Big Plans For The Future. You want to go to the home of the state's second-largest bottling plant? Superior City! Where do you think half the nation gets their shoelaces from? Superior City! It's a good place for families and for people on the go! Superior City: Better Than Ever, Every Single Day!)
I dunno. On the one hand, the Red Bee definitely deserves a low rating; I mean, the costume alone (horizontally-striped tights? Pirate-shirt sleeves? Pink and black and red?) should merit close to a zero. And then there's the whole "bee" thing. But on the other hand, he's just so completely and utterly insane that it's almost admirable. This is a guy who decided to fight crime with bees. The "new" Red Bee that they introduced last year is just your typical mutated insect/human crossbreed, boring as sin. That's not a Red Bee anybody wants to read about; people want to read about the classic Red Bee, just because – fuck, if a writer can come up with a reason that makes sense for the Red Bee's existence, that would be like pulling Excalibur from the stone, you know?
Grant Morrison can revamp Batman all he likes, but he's not going anywhere near the Red Bee. And that deserves a little something extra.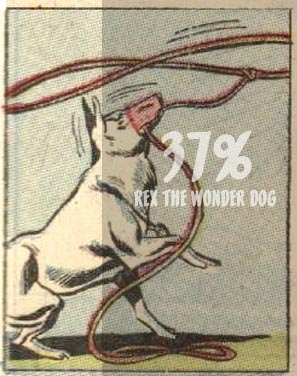 Incidentally, in that James Robinson story, the ghost of the Red Bee was all depressed because he was a loser and a lousy superhero, so the other dead ghost heroes all said "no, you tried your best and we think you're great for that." You just know they were snickering into their gloves when they said that.