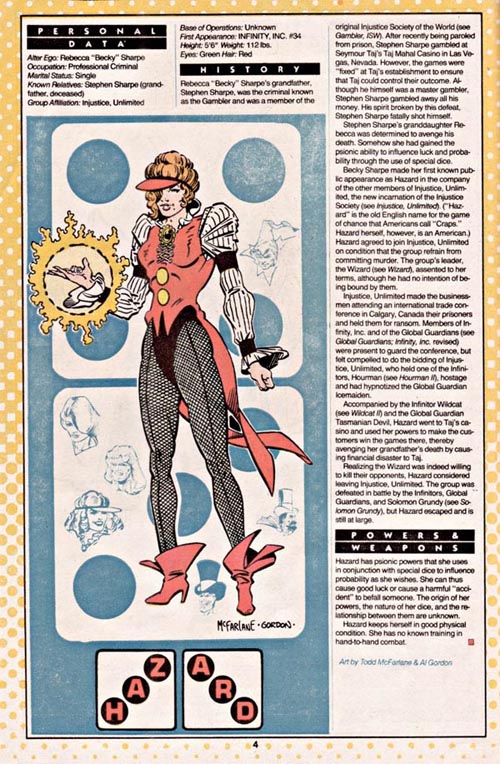 Why doesn't Hazard see more use?
I mean, she's a legacy villain, for starters. The granddaughter of the Gambler. Why hasn't Geoff Johns put her in a comic yet? (People may read these bits I do each week and think that I have some mad hatred for Geoff Johns, but come on – it's Who's Who, the old-school encyclopedia of DC Comics. The Geoff Johns references are natural. Like, for example, if I was doing Thursday Anatomical Mishaps instead, I would make Rob Liefeld jokes.) DC Comics is so about "legacy" these days that you'd expect Hazard to show up all over the place. Or get killed, possibly. DC is somewhat all over the place at times when it comes to legacy-ness.
But on top of that she's a good legacy villain. The powers and concept (the granddaughter of the Gambler having probability manipulation powers) work. The character notes (she dislikes violence and really only became a supervillain to avenge her grandfather – plus, the only people she really knew in the powers club were all villains) are interesting. The costume is cool. She wears a visor! She has poofy blouse sleeves on her costume and it works!
I mean, come on! She throws dice and alters luck! That is goddamned cool. There is a reason people like Gambit – it is because he throws playing cards and a gambling motif is a good thing for a superhero (or villain), particularly when said character tends to walk the middle ground of super-morality more often than not.
So obviously this is why Hazard has shown up precisely once since her debut in Infinity Inc. (where she was drawn by Todd McFarlane before he became a big-shot comics dude and eventual luxury baseball collector). In that one issue of Wonder Woman where all the female superheroes and supervillains fought each other. She got a panel.
There ain't no justice, folks!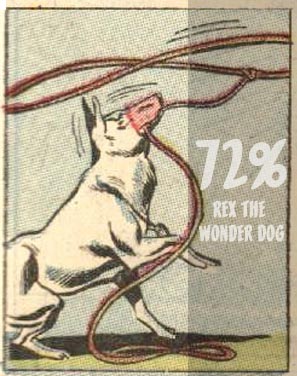 Also, the Injustice Society in general is cool. Icicle II: cool. The Wizard: cool. Artemis: cool (although her first costume was terrible). The Shade: so cool it is off the charts, even if he would not be particularly inclined to join Injustice-themed leagues, societies, clubs, or social teas. The Fiddler: cool in his way and it's a shame Gail Simone offed him, but there's no reason Deadshot couldn't have felt generous that day and simply shot him in such a way to knock him out and not kill him. (All right, so it's not likely Deadshot would feel generous. Maybe the Fiddler paid him up front.) That whole Injustice Society story in JSA Unlimited right before Infinite Crisis: way cool. And so forth.