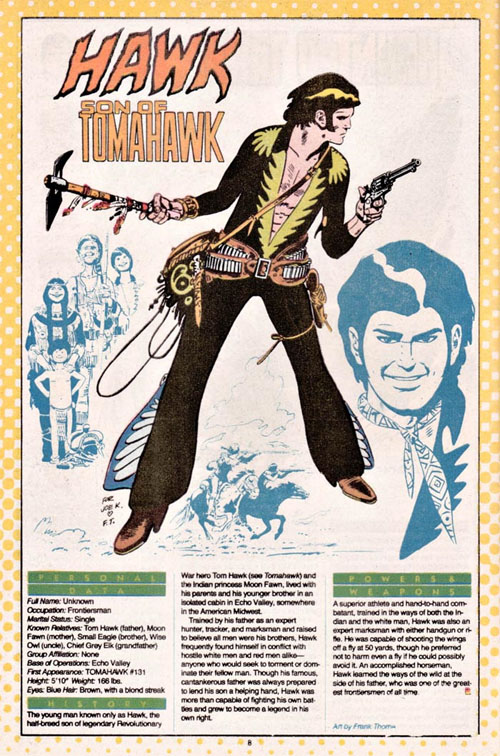 We think that spinoff characters started in the 90s when they created Venom and then had Carnage and then Venom 2 and Carnage 3 and Venom: The Venoming and now there's Anti-Venom. Also there was Vengeance, who was like Ghost Rider, but spikier and with a fiery horse skull (or something) rather than a fiery human skull. I think there was also a Morbius spinoff who was even more vampirey.
But no – even in the good old days, there were spin-off characters. Take Hawk, who is the son of Tomahawk. Tomahawk was DC's Revolutionary War comic character. He fought the British – including the notoriously awesome Lord Shilling (fun fact: this site is now the #1 search result for "Lord Shilling") – and, uh, other Britishers and Britishese. Maybe some Hessians too, I dunno. Possibly a Welshman somewhere.
However, Tomahawk, educational as he might have been, was not "down" with the kids of the 50s. Enter Hawk, Tomahawk's rather unimaginatively named son. Now, maybe you are looking at Hawk and thinking "why does he look like Elvis?" But this is merely a coincidence. Hawk is the result of painstaking historical research, which conclusively demonstrated that in the late 18th and early 19th century, men wore ducktail haircuts, slit-navel jumpsuits and neckerchiefs.
Hawk was excellent at all things. He was friend to white man and Indian alike! (Black men, not so much. He was in 1950s comics, after all.) He could shoot the wings off a fly, track just about anybody, see further than a hawk, hear better than a wolf, outwrestle a bear, outrun a puma… no, wait, sorry, those last four were Bravestarr. Actually, that reminds me. Why the hell did Thirty-Thirty let Bravestarr ride him around? I mean, Thirty-Thirty must've thought, at one point, "why can't we just get damn hoverbikes like everybody else?" And what was up with all the natives of the planet being hobbits? (Yeah, yeah, "Prairie People." We all know they were hobbits.)
…ahem.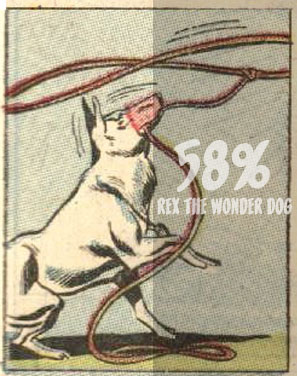 Because, silly as it might be to have Elvis be pre-incarnated as a wilderness scout, it's actually kind of ludicrously awesome at the same time, you have to admit.