"Hey, what would the Justice League be like if they were Nazis?" This is a question that has been posed to the comics reader again and again and again. Frankly by this point it is kind of boring. But luckily, here is one of the earlier iterations of the answer!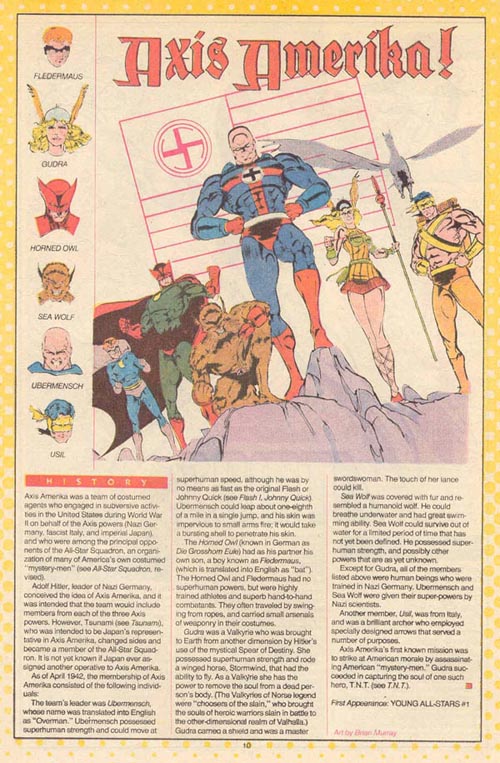 If Superman was a Nazi his name would be "Ubermensch," because Nazis have no imagination and just like to translate very literally and not even come up with a new name. Plus they would be all "we invented the term anyways so screw you." (But that's Nazis for you.) Also, he would be bald, because nothing says "master race" like "male pattern baldness" with a side order of "shaving your head so you can pretend you are not going bald and that it is instead a personal choice, much as Moby or Bruce Willis does." Nazis understand that we subconsciously link Bruce Willis with Superman (and Moby). They are using Nazi psychology to fuck with your head.
If Batman were a Nazi he would be "the Horned Owl" and his sidekick (because every alternate Batman needs an alternate Robin, regardless of how forced and ridiculous the Robin idea is once you remove it from its original context) would be named "Fledermaus." The Nazis cleverly take the Batman-and-Robin concept and invert the species of the costumed archetypes! And they need no superpowers! Despite the Nazis being perfectly willing to give the other heroes they created superpowers, which kind of makes you wonder if Horned Owl pissed people off at the secret Nazi mad-scientists-making-supersoldiers base. "Fuck, Hans, that asshole Horned Owl won't shut the fuck up about how he got tap water instead of spring water at lunch yesterday." "What were we going to give him? Super-speed?" "Ja." "Fuck it, let's give him the kid sidekick and no powers, see how he likes that."
If Wonder Woman were a Nazi she would be Gudra the Valkyrie, every bit as impressive as the Marvel Comics Valkyrie. Which is to say, not really that impressive. Admittedly, she has a spear that can kill people with a single touch. This is not as impressive as it sounds, though, considering most spears can kill you with a single touch anyway. You just need, you know, a bit of a firmer touch. However, unlike most of Axis Amerika, she did manage to kill an American superhero. Sure, it was just T.N.T., which is kind of like being the New York Yankees (if they were Nazis) and killing, I dunno, a Toledo Mud Hen. But nonetheless…
If Aquaman were a Nazi he would be Sea Wolf, who is a werewolf, because nothing says "Nazi Aquaman" like "werewolf." Really, it is a testament to the importance of Aquaman in the enduring Justice League canon that in this Nazi version, his Nazi equivalent appears to be the result of a game of Mad Libs as played by Chris Sims. "Nazi… undersea… werewolf. Right! To the drawing board!" (Chris Sims has a drawing board, but you don't want to know what he uses it for.) However, in fairness, Sea Wolf looks pretty badass, because he is a wolf-man and wolf-men look inherently bad-ass. So good for you, Sea Wolf! No, who am I kidding. You suck, Sea Wolf. Dogs are not inherently aquatic animals, no matter how much they might enjoy splashing on the shore, and the alternative is that rather than be a werewolf, you are some sort of, I dunno, were-seal. And come on. Were-seal? Really now.
If Green Arrow were a Nazi he would be Usil, the Italian super-arch… wait, seriously? Italian? Man, Green Arrow is even less important than Aquaman on the Nazi scale of importance. He was deemed so important that they felt willing to outsource his development to Italy, a nation with the following prominent superbeings: none of them. Even all the good Italian supervillains are from America, because all evil Italians in comics are Italian-American mobsters. Except Usil. Italy was probably so proud, with crusty old Italians in the streets and cafes saying things like "well, say what you will about Mussolini, but democracy never got us anybody wearing tights and fighting other people in tights!"
But let's be honest: Usil will never be any good, because people's tolerance for a concept as flagrantly silly as "superhero still stupid enough to use a bow in the modern era" extends to Green Arrow and Hawkeye and nobody else. (Yes, "nobody else" includes Roy Harper, who earns double scorn points for being briefly intelligent enough to pick up a goddamned gun and then put it down again so he could get into the Justice League and be violently outclassed by everybody. And have sex with Hawkgirl, which I suppose is actually a good enough reason to do it, although then again Roy Harper has never had any trouble getting laid with the women of the DC Universe.).)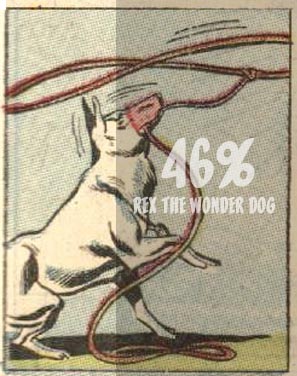 Because even by the depreciated standards of World War II heroes and villains (where Mr. America was actually taken seriously as a going concept), these guys are pretty lame. I mean, come on. Sea Wolf.