DC has oft-times gone to ridiculous extent to justify its tradition of kid sidekicks and teenaged superheroes. But every so often you come across one that they quietly swept under the rug – specifically the stupidest possible concepts they came up with. This is one such.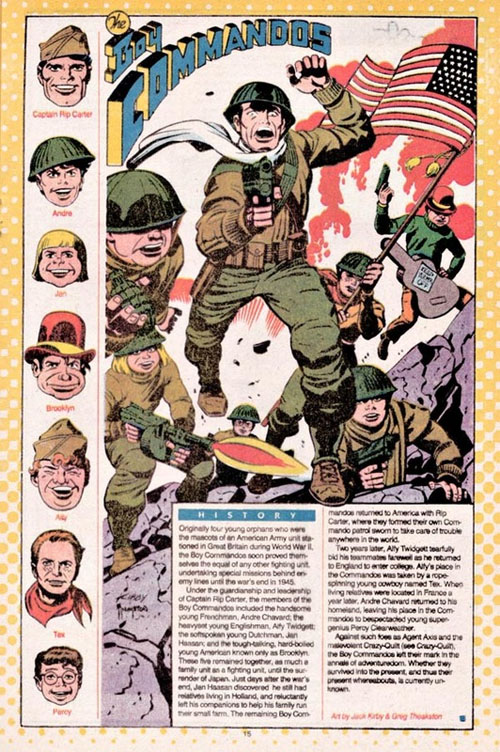 Yes, it is the Kiddie Version of DC's tradition of theme paramilitary units – Easy Company, the Losers, the Haunted Tank, the Creature Commandos, and the lesser lights like the team of acrobatic brother-soldiers who repeatedly got caught on Dinosaur Island. But that wasn't enough: they needed a young team to whom the Kiddies could better relate. And hence… the Boy Commandos.
Led (or possibly owned, it is unclear) by Captain Rip Carter, the Boy Commandos were not just a standard frontline unit but indeed an elite special missions team, every single one of its members apparently precocious in all the deadly arts. There was Andre, the handsome charming French lad; Alfy, the fat stupid English boy; Jan, the "soft-spoken" Dutch boy with stereotypical page-boy haircut; Tex, who – and I am certain this will surprise you – was a young cowboy who did rope tricks; Percy, who wore glasses and was therefore an intellectual powerhouse; and of course, there was Brooklyn, about whom the less is said the better.
(Except you can't say "less" about Brooklyn, because thanks to the stupid, stupid need of DC comics writers to desperately tie every little goddamned thing together in their vast patchwork universe, Brookyln eventually grew up to become Dan "Terrible" Turpin, and therefore also eventually became Darkseid as well. I assume that at some point there will be horrible, horrible fanfic about this demonstrating how Brooklyn's experiences in World War Two eventually led to him becoming Darkseid.)
You can say so many things about this that are righteously terrible things, but let's put it this way. If DC decided to do a modern-day revival of Boy Commandos?
Oh, yeah! Best comic book ever!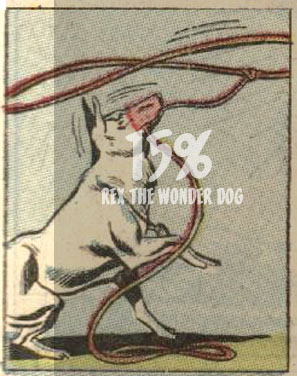 Seriously, when Mark Waid used these guys in Brave and the Bold last year, I simply had to be impressed with his sheer ballsiness and/or lack of common sense. Some things can stay in the vault.