By popular (okay, one repetitive) request: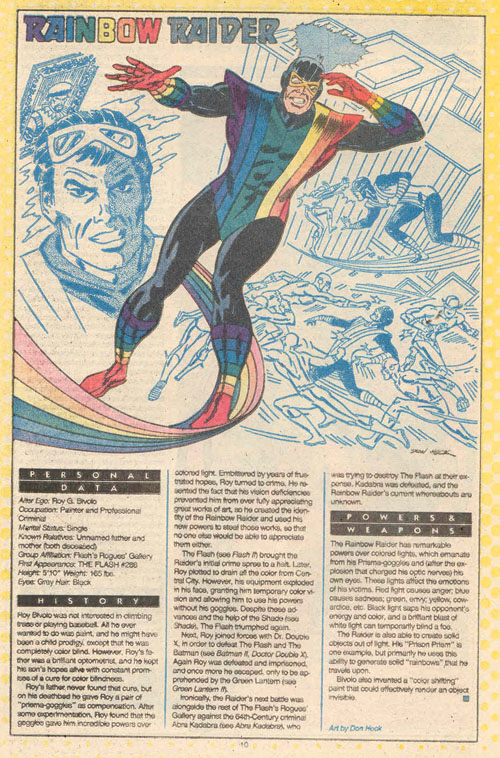 First off, understand that Roy. G. Bivolo (yes, that is apparently his real name, which is one step above Kite-Man's real name being Charles Brown) is an embittered super-criminal who turned to a life of super-crime because he could have been a truly great artist if only he had not been born colourblind! Of course, the fact that you can create perfectly brilliant works of art in monochromatic tone (Escher did it all the time) never seemed to pierce Roy's psyche. So probably he was lying about being a potential artistic child prodigy.
But it would make sense that he was lying, because Roy didn't build his super-powered light generators himself – his father made them for him, shortly before dying of natural causes. How lame is that? At least Weather Wizard killed his brother to get that weather-wand. How does Roy have any self-respect at the super-villain club nights? Really, it's supervillainy, not soap box derby racing.
"Yeah, I fell into a vat of super-chemicals and they turned me into a massively strong giant. How'd you come up with that light thing you do?"
"…my dad made it for me…"
On top of that, the powers themselves? Well, he's got a sort of made-in-Chinatown version of the Green Lantern ring since he can create solid-light objects, although he never uses it for anything other than to create rainbows to travel upon. But even less impressive than that is his power to use colors to influence emotions. For example, he can use red light to make you angry! I imagine this is particularly useful when he is fighting Hawkman.
Hawkman: I am going to stop you, Rainbow Raider!
Rainbow Raider: A HA! Red light in your FACE!
Hawkman: I WILL KILL YOU AND WEAR YOUR BALLS AS A HAT! MACE MACE MACE!
Rainbow Raider: Oh, fu- (rest of sentence ended by mace smashed violently into mouth)
Finally, it is worth noting that among a criminal history that included such noteworthy moments as teaming up with Dr. Double-X ("less randy than Dr. Triple-X, more daring than Dr. Single-X"), one of the Raider's most infamous criminal moments was attempting to drain all the colour out of Central City. Which left all the other criminals scratching their heads, because… why?
"Now they won't be able to use… traffic lights! The city's traffic will come to a standstill without giving me the riches I demand!"
Oh, Roy. Roy, Roy, Roy.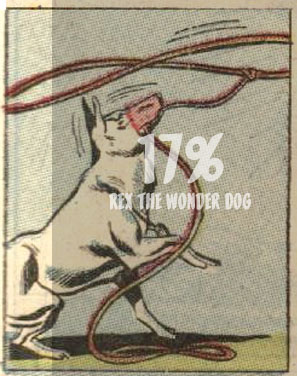 There's a reason Geoff Johns used this guy as a stupid whipping-boy.
Top comment: This character makes much more sense if you assume he's trying to get revenge on the world not over his colorblindness, but over his father cursing him with a really stupid name. I mean, come on… Roy G. Bivolo? It's like his father wanted him to have the crap beaten out of him in school. — Skemono