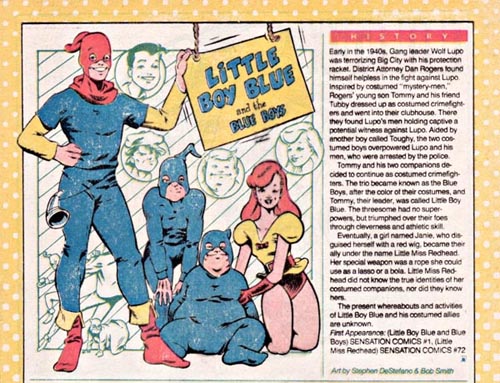 Once upon a time, there was a band of kiddie heroes in the Golden Age. And that was all right!
Okay, so maybe there being the presence of a fat kid in tights named "Tubby" is the sort of thing that now seems ludicrous. As does a pretty girl – hell, any girl – voluntarily hanging out with kids in blue leotards and masks and fighting crime. (Seriously, Little Miss Redhead is so out of the Blue Boys' league it is not even funny.) And of course, her special weapon is a rope! Which she can use as a lasso or a bola or it's fucking rope, people!
And yeah, the idea of these kids beating organized criminal rings with their "cleverness and athletic skill" is kind of a stretch. Especially when you look at Tubby. Obviously there's not a lot of athletic skill there, but with that dopey grin I'm thinking he's short on the cleverness too, so I have to wonder how useful he was. Maybe they threw him at the bad guys, I don't know.
But, still – Golden Age. More innocent time. There was a war on. And so forth. My point is that although these guys are not exactly on the scale of a Robin or Bulletman, they're at least forgivable as products of their time.
But nothing excuses this.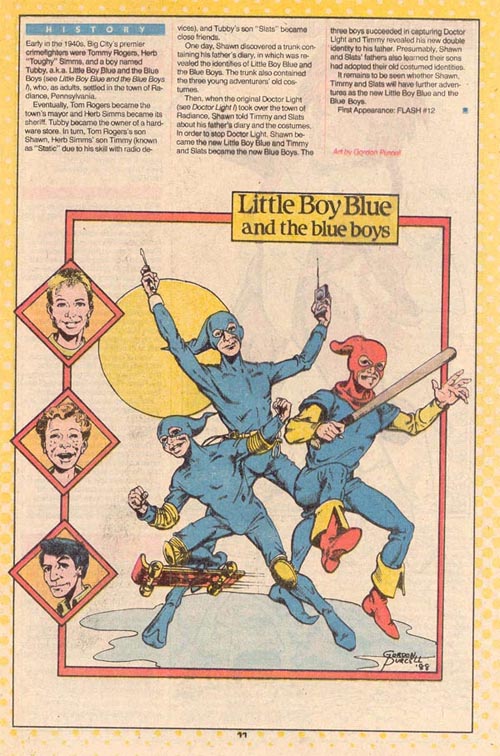 What. The. FUCK.
One of the worst things about DC's appealing to "tradition" is that it tends to occasionally fetishize its own history. Don't get me wrong; it's cool that someone like Nemesis gets reinvented as a love interest for Wonder Woman (not least because Steve Trevor is a fucking dink and we are well rid of him), or that Ma Hunkle gets brought back to be the JSA's housekeeper. But it can go badly as well, even by the best of writers: Kurt Busiek creating a "new" Haunted Tank in Power Company is one of the most egregious examples I can think of, but I'm sure you people can come up with a laundry list.
But this – this thing – is the worst of them. Ever. It is a rebirth of Little Boy Blue and the Blue Boys – the team absolutely nobody demanded return – as second generation XTREEEEEEM reimaginings! They are the sons of the original Blue Boys! (Apparently Tubby reproduced. Possibly asexually.) One of them is an electronics expert and his nickname is "Static!" One of them uses a skateboard and his nickname is "Slats!" They are so fucking pathetically the product of a middle-aged mind that I'm almost hoping Little Boy Blue "does a rap."
Yo I'm the LBB and I am here to say
that we three fight crime in our particular way
Slats rolls on his board, Static does his thing
and I'll hit you with a bat, badda boom badda bing
And they beat Doctor Light, but that's all right because now we know they could only beat him because Zatanna made him into a retard with magic. But seriously, even retarded-by-magic Doctor Light deserves better than to lose to these little assholes, whose soullessness is so evident that it makes me wince just looking at them.
Golden age version: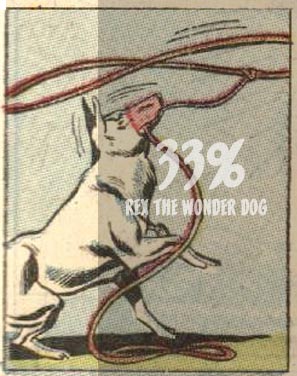 Modern-day version: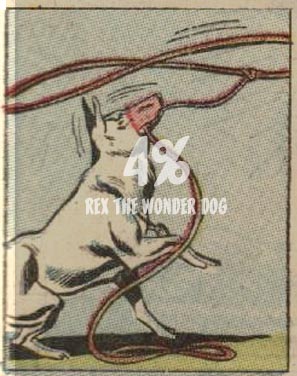 Comment that wins the thread: The modern team carries a baseball bat, a screwdriver, and a skateboard with a curious bashing-lip on the front. Clearly, if evil knows what's good for it, it'll hand over it's wallet quietly. — wyrmsine