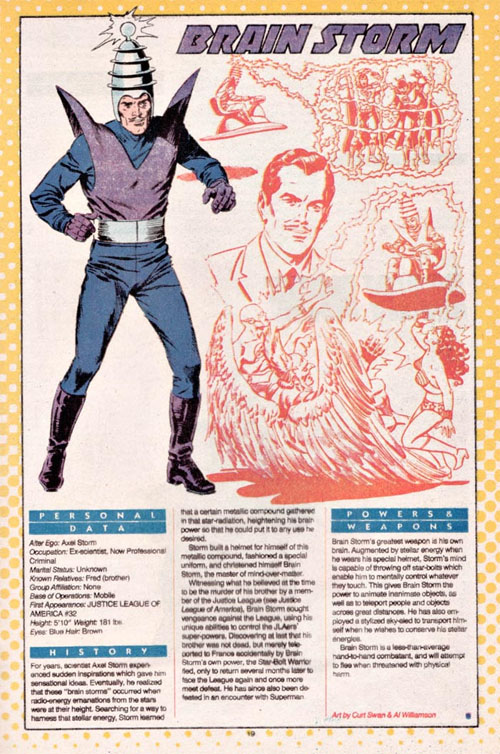 Fifteen reasons why Brain Storm sucks.
1.) His helmet looks like an exotic dildo.
2.) He first attacked the League because he thought they had killed his brother, but in fact, he had accidentally teleported his brother himself, using his own powers – to France.
3.) Seriously, it says that right there. Teleported his brother to France.
4.) It says right in his roundup that he will run away if "threatened with physical harm." So he's a pussy.
5.) Why do all villains with mental powers always suck at fighting? Haven't they figured out yet that being able to throw a good punch is worth at least 1/3rd of a telekinetic bolt in comics?
6.) Dildo helmet.
7.) His name is two words rather than one.
8.) His real name is Axel Storm, so this is Silver Age Example #735 of a guy who couldn't come up with a good super-name until he took a look at his own name and thought, "well, what can I do with this?"
9.) I know I'm hating on the dildo helmet, but – while we're discussing sartorial choices, what is up with those shoulder things? Did he decide "yeah, I should look like a 1959 Cadillac, that will strike fear into the heart of all who behold me," or what?
10.) That having been said – dildo helmet.
11.) His nickname is the "Star-Bolt Warrior," which makes him sound like one of the toys from Crystar or a similar crappy toy line that didn't even last one season on teevee.
12.) His failure to recognize that a pencil moustache in everyday life might make you look like Clark Gable, but once you put on a supervillain costume you stop looking like Clark Gable and start looking like Vincent Price.
13.) He invents a floating hoverchair and, rather than becoming rich, uses it for supervillainy. This isn't, like, Captain Cold or somebody, who invented something that's basically only good for killing people. He invented an air-chair, for fuck's sake.
14.) Did I mention that his brother was named "Fred," incidentally? Because – yeah, what kind of parent names their two children "Axel" and "Fred," anyway? The type of person who names their kid "Axel" is not going to name their other kid "Fred." Well, maybe their dad wanted to name the second kid "Diego" or "Slice" or something, and their mom put her foot down and said "this one is Fred, goddamnit."
15.) In conclusion: dildo helmet.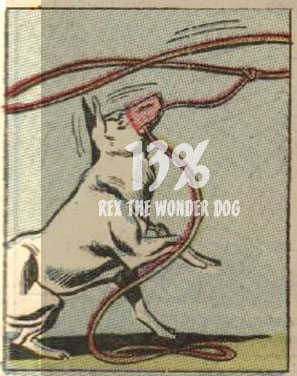 Blinky dildo helmet.