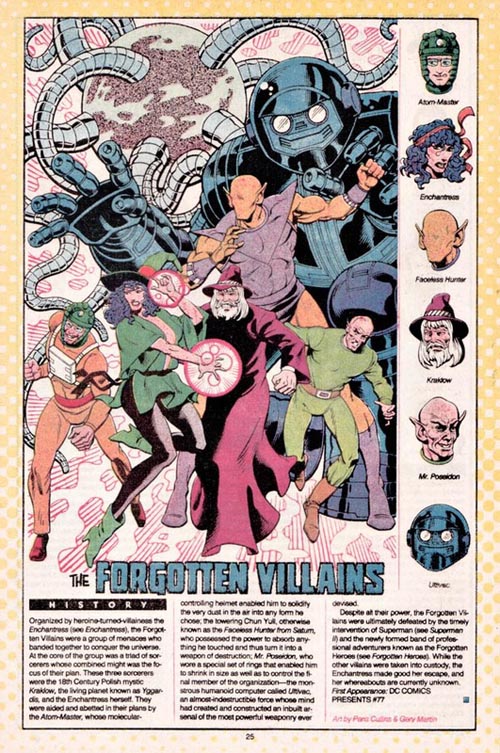 I fucking love the Forgotten Villains.
Look at them. These are old-school villains, who know the value of a good maniacal laugh, who know that good henchmen are hard to find but easy to slaughter in a fit of rage, who know that if you haven't given the hero at least one tiny way to escape from your deathtrap then you just don't understand the point of deathtraps.
Granted, only Enchantress is still around with any regularity these days and she's kind of a good guy right now, but the rest of them deserve to make comebacks. Look at their lineup. First, there is Kraklow. Kraklow is a Polish wizard from the 18th century and he knows that proper evil wizards wear robes and have pointy fucking hats and these kids today with their techno-magic and their voodoo babble don't know how to properly summon a cacodaemon worth a good goddamn. Kraklow is a giant Polish roll of fuck yes.
Then there is Atom-Master. He masters atomic thingies and basically made a helmet that turns him into Firestorm. He goes into combat wearing glasses because what the fuck are you going to do to his glasses that won't just make him turn you into nitrogen? He is your classic mad-scientist villain and he, too, is awesome.
How about Mr. Poseidon? Okay, so his name makes no sense considering he has no sea-related powers, but he has rings which let him shrink down like the Atom and he controls the horrible Ultivac, the Indestructible Computer That Walks Like A Man (If That Man Were Really, Really Large And Made Of Metal And Computer Parts). Come on, you've got to love a guy who calls himself something that makes no sense. Assuming it's not just his name. Maybe it is his name. Like, he is Dave Poseidon, and he decided, "fuck this name shit, I'm just going to build a giant destructo-computer-man."
And then there is Chun Yull, the Faceless Hunter From Saturn (that is his entire villain name), who can turn things into bombs just by touching them, so basically he is an eight-foot-tall combination of the Question and Gunfire with Spock ears and orange skin and also he is from Saturn.
And last but not least, there is Yggardis, who is an evil sorcerer who happens to also be a fucking planet. Yes, if Mogo were A) evil and B) capable of casting magic spells, he would be Yggardis. Also Mogo would need to get himself a set of colossal metal tentacles, because Yggardis figured out pretty early on that in order to really be evil, you need something with which to make dramatic gestures. Because otherwise, what's the point of being evil?
Like I said: I fucking love these guys.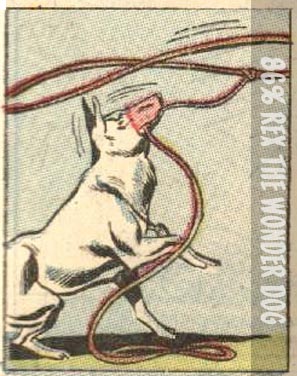 Also, they fought the Forgotten Heroes. You know who the Forgotten Heroes are? Animal Man, Cave Carson, Congorilla and the Sea Devils. HOW FUCKING AWESOME IS THIS SHIT?
Top comment: I'd love to see Yggardis take on Mogo while a dozen or more heavy hitters in DCU just watch from space, like "well, what the hell are we supposed to do about THIS?" — Garfield