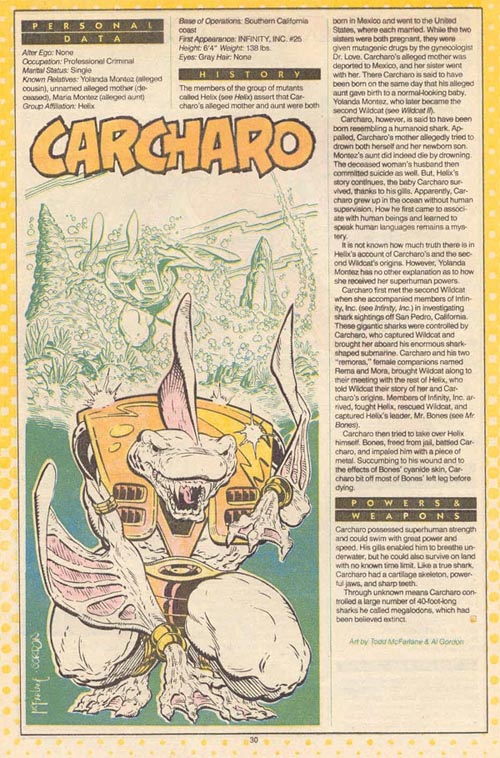 You kind of have to feel sorry for poor old Carcharo. Todd McFarlane and Roy Thomas wanted to tell a story about a villainous shark-man. But the problem with villainous shark-men is that there are already some people who have firmly claimed that niche as their own – Tiger Shark, Killer Shark, King Shark, the Shark (he's the one with no adjective), and of course Jabber Jaw. The essential point being made here is that there are no end of shark-themed supervillains. If you're going to create a new one, you need to bring something new to the table.
What Carcharo brings to the table is giant shoulder pads. Cable-quality metallic shoulder pads, a full four years before Cable was created. (Or maybe afterwards. Cable is a time-traveller, you see.) That is what distinguishes him from all the other shark villains. Other shark villains think "I will be like a shark – sleek, hydrodynamic and deadly." Carcharo, on the other hand, decided that he was so sharky he needed a handicap, so clearly he needed giant shoulder pads to slow him down!
Beyond the shoulder pads, there's really very little that makes Carcharo unique. I mean, blah blah genetic experimentation as baby yada yada yada I think there are like six shark villains all with that same origin. You'd think at some point there'd be a shark villain who just decided after watching Shark Week one week that this was his ticket to supervillainy, but no – it's always genetic experimentation as a baby.
Also, Carcharo died of a combination of cyanide poisoning and being stabbed with shrapnel. How do you even manage that? Cyanide is not supposed to be a slow death! You get enough of it in you and BAM, that's it, there's shouldn't be enough time to say "hey, don't stab me with that met-".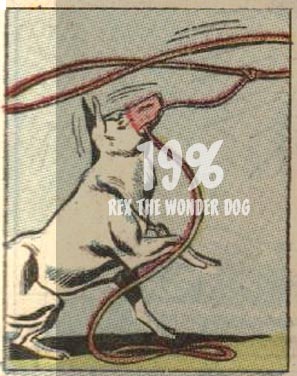 In fairness to Carcharo, he apparently did manage to score himself a pair of lady companions, (who presumably were banned from most aquariums) and that's more than most shark villains do. What with them being sharks and all.
Top comment: OK, just a quick question. His mother is alleged, but the unknown father gets a pass on that? How, exactly, does that work? — Ambrael