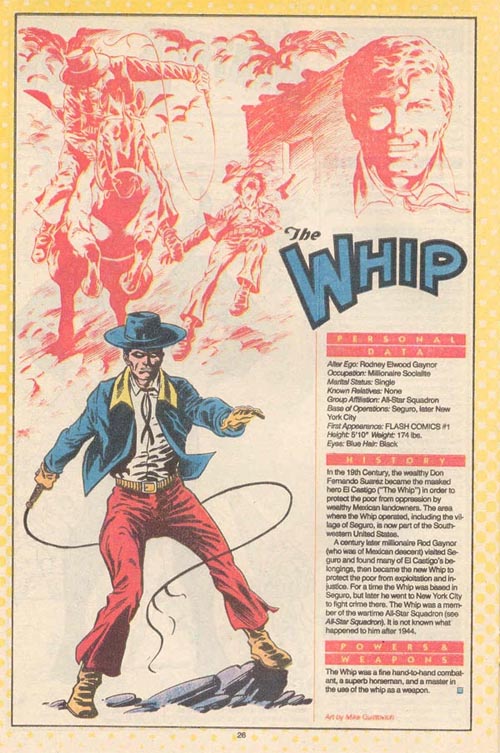 Flash Comics #1 was an auspicious comic. Of course, it was the very first appearance of Jay Garrick as the Flash, but it was also the first appearance of Hawkman. That's a heckuva comic right there: the Flash and Hawkman, both appearing for the first time. But wait! On top of that, it was also the first appearance of Johnny Thunder! That's two major players and a classic second banana, all in one comic!
And then there's the Whip.
The Whip is a working-class hero. No powers for this guy! Just his facility with a whip. Rodrigo "Rodney" Gaynor (no, really!) was a descendant of the very first Whip, a Mexican superhero of the 19th century who fought for right and protected the poor. Kind of like Zorro! But with a whip instead of a sword. Well, actually Zorro used a whip too sometimes. So basically think Zorro, but no sword.1
Anyway, Rodney used his, I dunno, one-sixteenth Mexican-ness ("just enough beaneater to use their traditional ethnic weapons, but not so much that you can't take him home to Mother, girls!") to master the whip and call himself The Whip, as his ancestor did before him. At some point you would think that he would come up with a better name, but no such luck. In a stunning development, he mostly fought… evil Mexicans. The symbolism of a white guy fighting Mexicans was apparently glossed over at the time.
Presumably at some point Rodney joined the All-Star Squadron, as did just about every other vigilante who ever existed. And that is more or less all there is to be said for the Whip. (Except that his granddaughter also became the Whip briefly before dying as one of the Seven Soldiers of Victory.) But that's okay. Rodney is one of the rank and file. A spear-carrier. A red-shirt. He is there to fill in crowd scenes and show up as a fourth-tier guest star when another superhero visits 1940s Mexico, and that's all we can expect of him, and that is fine. Not everybody has to be a Flash or a Hawkman.
The Whip did not ask for much from comics, and he mostly got it. And things could be worse. The fifth star of Flash Comics #1 was a guy named Cliff Cornwall. Who the fuck is Cliff Cornwall? Because I sure as hell don't know.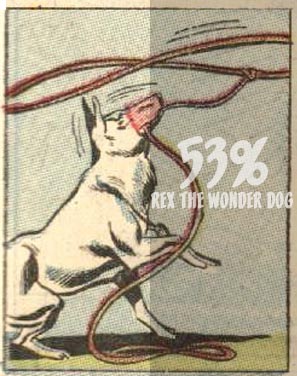 Although it's kind of a shame that there are numerous superheroes within the DCU that are more prominent and known for the expertise with the whip (Catwoman and Mr. America, to name two). I mean, he's called the Whip. You'd think he would be like the Green Arrow of whips, or something.
Top comment: He's a *millionaire* and he's using his whip to "protect the poor from exploitation and injustice"?!?! Gosh, it's a good think he didn't waste his money on something completely ineffective in that regard, like going to law school. — robin
Sidenote: does anybody remember a TV movie or something similar where Zorro was in jail or wounded or something, and his cousin took over, but his cousin was crap with a sword but great with a whip so he only used a whip, and called himself "the Red Zorro"? Did I just hallucinate that? [↩]